This trip begins and ends in Christchurch.
Christchurch has an international airport; you can pick up your campervan rental here. There are no free camping spots in the city itself, but there are a few paid campgrounds, all of which you have to book in advance. If you really want to camp somewhere free, head out to Lake Ellesmere, about half an hour south of Christchurch. For your first night, though, you'll probably want to stay somewhere with more than just a toilet.
Use the Rankers camping map to find what you need – it's invaluable.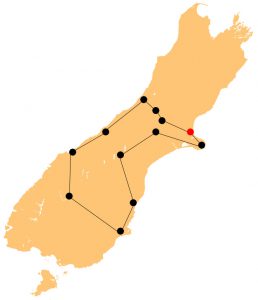 DAY 1 – CHRISTCHURCH
Now you're in Christchurch, you'll be wanting to spend more than just one day here. Don't worry – you'll be back again at the end! We recommend catching a vintage tram ride to get your bearings. That'll take you past many of the city's attractions. Definitely visit the Botanical Gardens and the Antigua Boatsheds. The gardens rest in a crook of the Avon River, upon which you can take a relaxing punt in charming Edwardian style. The boat sheds also house a nice café – go there for lunch and then the Curator's House for dinner!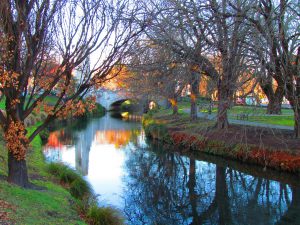 Another point of interest in Christchurch is the International Antarctic Centre. It's right next to the airport and it's fascinating. If you ever wanted to learn about life in Antarctica without actually going there, this is the place. The Canterbury Museum is pretty good too, as is the Willowbank Wildlife Reserve.
While you're in Christchurch, you might like to make an effort to visit the Cardboard Cathedral and, behind that, the 185 Empty White Chairs – stark reminders of the devastating earthquakes.
DAY 2 – AKAROA
Just over an hour's drive southeast of Christchurch, along Banks Peninsula, sits an enchanting colonial settlement with a distinctly French flavour. In Akaroa, the streets have French names and there are French eateries galore. Historic buildings and beautiful views – what more could you want? How about a unique opportunity to swim with the world's smallest, cutest dolphins? Hector's dolphins are endangered; Akaroa is the only place in the world you can get in the water with them.
We recommend a visit to the Giant's House, a wonderful old building with a garden filled with quirky mosaics and sculptures. You certainly won't forget it in a hurry.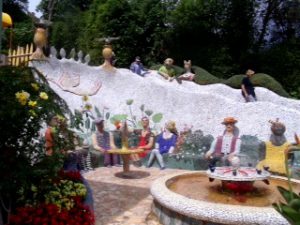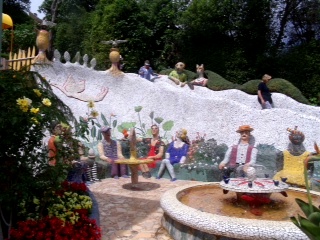 There are a couple of free camping spots within Akaroa itself – if you have a certified self-contained campervan like this one, of course. The Akaroa Top 10 Holiday Park is expensive to stay at, but it is situated at the top of a hill with a fantastic view of the harbour.
DAY 3 – RAKAIA GORGE
Two hour's drive from Akaroa, Rakaia Gorge is a truly stunning piece of nature. You can explore it on foot, from the air, or by boat – you could even take a thrilling jet boat ride! The spectacular braided river is a beautiful shade of blue; the sight of it will take your breath away.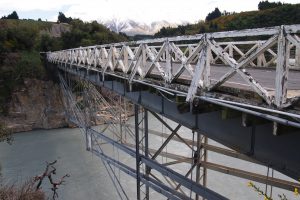 The Rakaia Gorge Camping Ground is cheap and very good. You don't even have to book. Alternatively, you could stay in the nearby small town of Methven. (Remember, you'll probably need to stay at a campground with powered sites to recharge your campervan on at least every third night.)
DAY 4 – LAKES TEKAPO AND PUKAKI
Two hour's drive from Rakaia Gorge lies the postcard-perfect Lake Tekapo. On the way there you'll pass through the charming town of Geraldine – try some Barker's jam or fruit juice as you do. Lake Tekapo is one of the prettiest spots in the whole country, especially with the addition of the old-seeming stone Church of the Good Shepherd. It's also famous for having some quite beautiful lupins.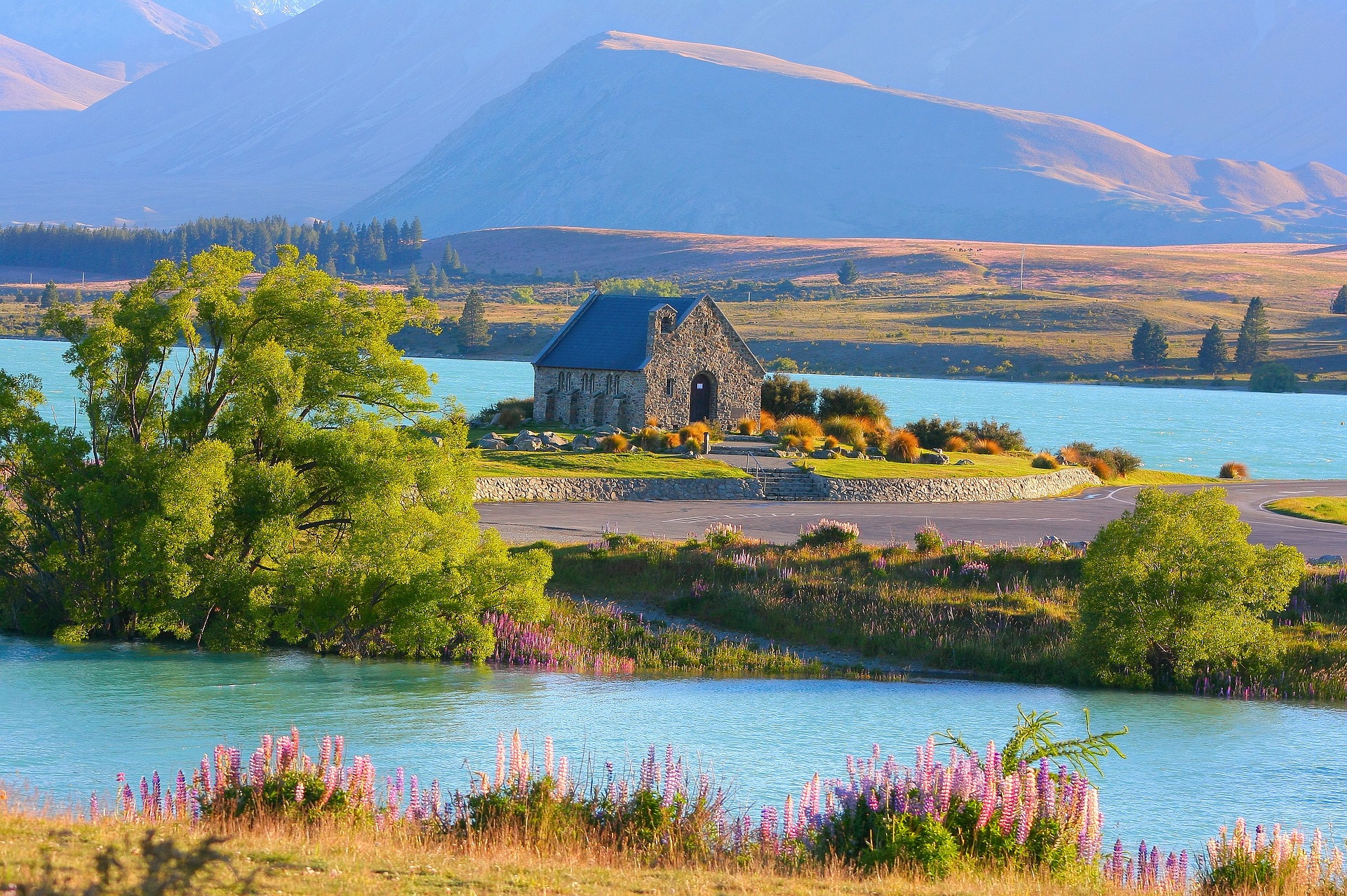 Another half an hour's drive from Lake Tekapo lies the even more beautiful Lake Pukaki. With the snowy peak of Mount Cook standing over its turquoise water, Pukaki is simply stunning. Upon its shores is absolutely the best free camping spot in the country. Imagine waking up to this view.

DAY 5 – OAMARU
Oamaru is famous for two things: little blue penguins and steampunk. About two hour's drive southeast of Lake Pukaki, the town features a wonderful Victorian Precinct with proper old-fashioned shops. It's THE place to live out your steampunk dreams. Its Public Gardens are quite magical too. There's also a colony of little blue penguins on the town's doorstep – you'll see them at dusk waddling up the beach.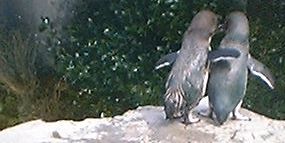 There are only two campgrounds in Oamaru, so you'd best book ahead unless you want to stay further out. Harbour Tourist Park is next to the Victorian Precinct and the penguins; the Top 10 Holiday Park is next to the gardens.
DAY 6 – DUNEDIN
Follow State Highway 1 south for an hour and a half and you'll come to Dunedin. Make sure you stop and see the famous Moeraki Boulders on the way!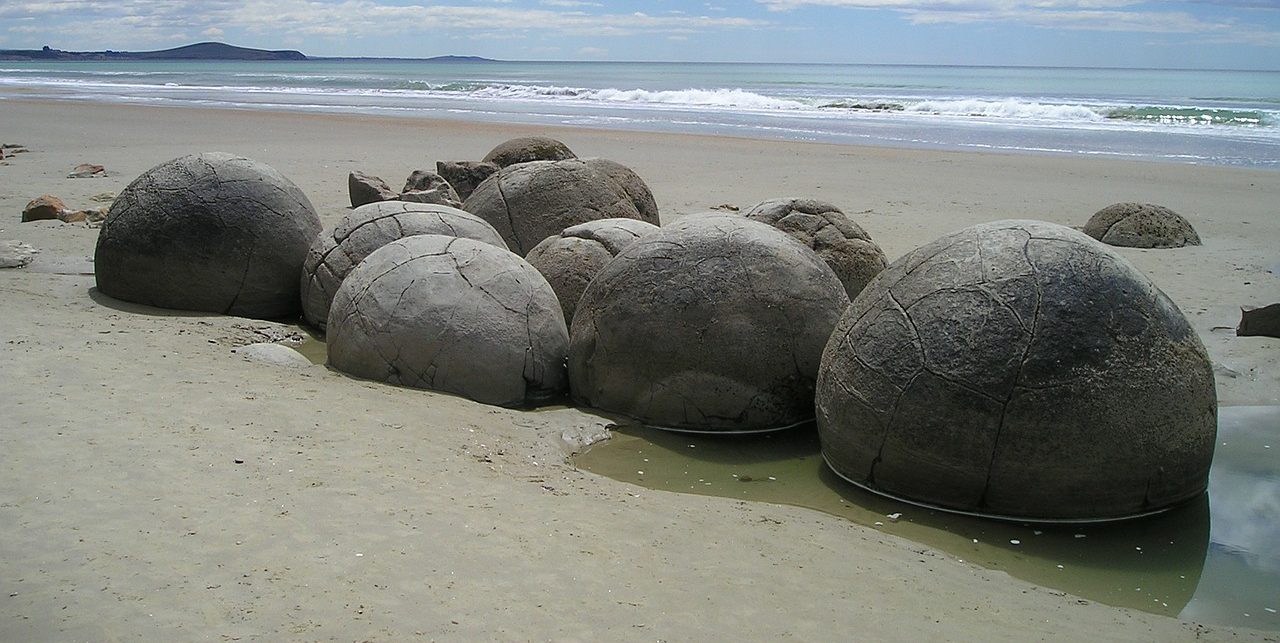 There's certainly a lot to do in Dunedin. You can tour a chocolate factory or a brewery, catch an old-fashioned train ride through a spectacular gorge, visit some excellent museums, meander through some lovely gardens… and I haven't even got to Dunedin's main attraction. (That's tomorrow.) The nightlife in Dunedin is worth experiencing too, with its quirky collection of bars and live music.
DAY 7 – THE OTAGO PENINSULA
If you only do one thing in Dunedin, drive along the Otago Peninsula. Its beauty is outstanding and it has no shortage of attractions. At its tip nests the world's only mainland royal albatross colony, and seals and penguins grace its beaches. It even has a castle. There's only one campground, though.

DAY 8 – QUEENSTOWN
To drive from Dunedin to Queenstown takes approximately three and a half hours, but the views get better and better: mountains and lakes straight from a fantasy world. Once you're there, you'll be spoilt for choice regarding what to do. You could bungy jump off Kawarau Bridge – if you're not keen it's still fun watching others take the leap – or take a jet boat ride through the heart-stoppingly beautiful Shotover River Canyons.
If you're not the thrill-seeking type, there are wineries, hiking trails, cruises and galleries galore. The nearby historic Arrowtown is well worth a visit, as is Paradise. Yes, it's called Paradise for a very good reason. We recommend a horse trek with Dart Stables – the scenery encountered is beyond epic.

DAY 9 – MORE QUEENSTOWN
You definitely need more than a day in Queenstown and the surrounding area. Milford Sound in Fiordland is a long drive out of the way, but it does claim to be the Eighth Wonder of the World.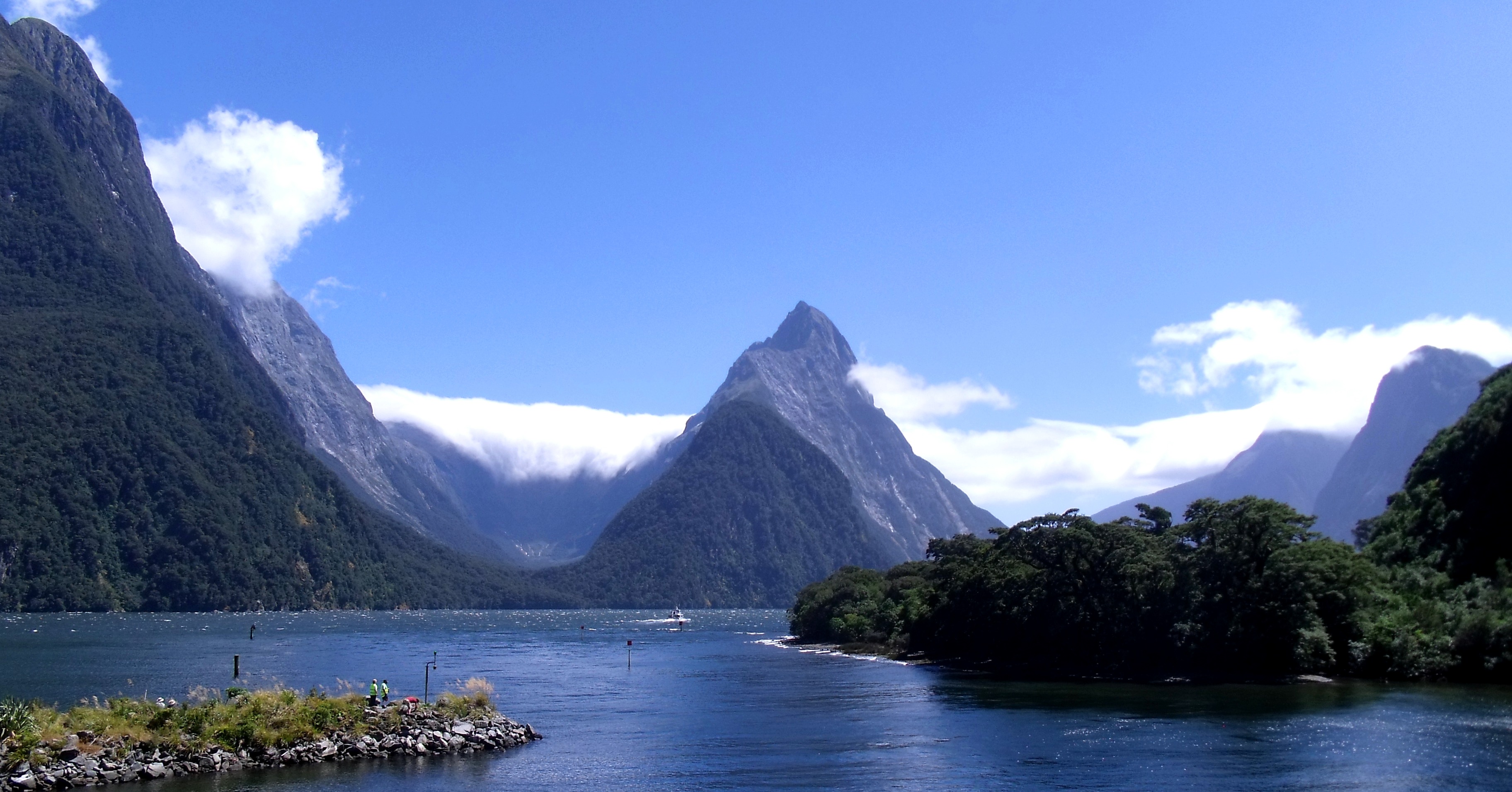 DAY 10 – THE ROAD TO HAAST
It takes less than three hours to drive to Haast from Queenstown if you don't stop. But you'll definitely want to stop. The road will take you past Lake Wanaka, which is amazing – if bracing – to swim in. It will also take you through Mount Aspiring National Park and along the Haast River. For an easy yet beautiful tramp, you could do the Blue Pools Walk near the village of Makarora. The Gates of Haast are also worth stopping for.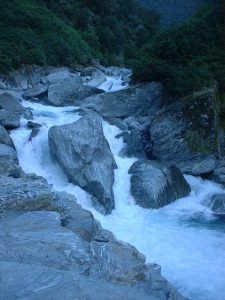 There are a couple of paid campsites around Haast. Between now and Arthur's Pass, we don't recommend camping in any wilderness areas – the West Coast is notorious for sandflies!
DAY 11 – FOX AND FRANZ JOSEF GLACIERS
An hour and a half up State Highway 6 from Haast lies Fox Glacier. Why should you visit it? Because it's one of the only glaciers in the world you can reach via an easy walk. The same can be said of Franz Josef Glacier, a little further up the road. You can see these glaciers for free, or walk upon their surfaces with guided tours, or take a helicopter ride! Helicopter rides around here are spectacular, as it's the home of New Zealand's highest peak, Mount Cook.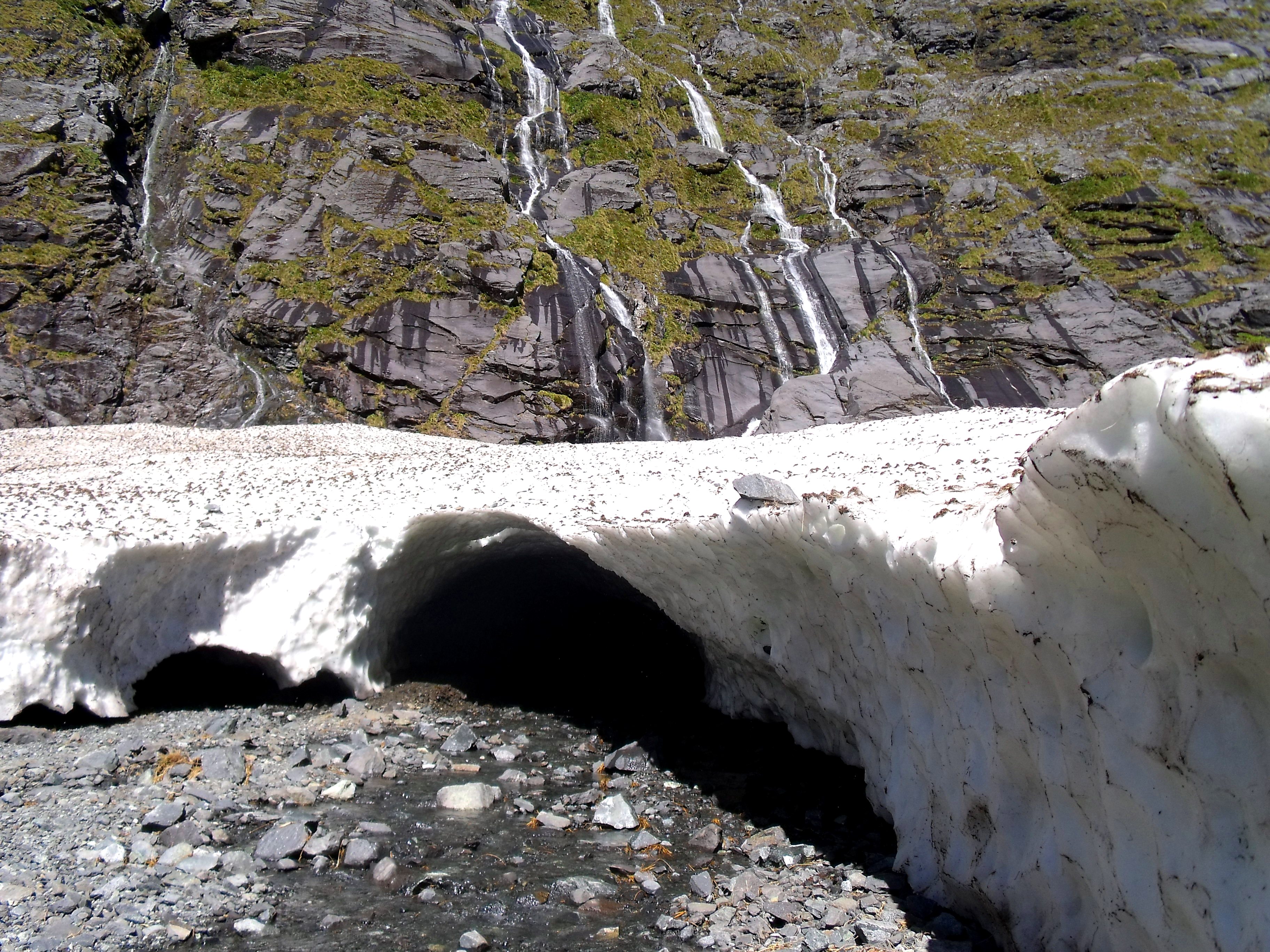 We recommend continuing on to Hokitika and spending the night in one of the two campgrounds there. For this, you must book ahead. There are a few neat things to do in Hokitika, including seeing glowworms for free.
DAY 12 – ARTHUR'S PASS
Arthur's Pass National Park is about an hour's drive from Hokitika. Simply driving through it is worth it, but, of course, there's also a whole host of different walks you can do. The best thing about Arthur's Pass – aside from the scenery – is the kea, the world's only alpine parrot. They're very intelligent birds and cheeky to boot. They're hilarious to watch – as long as it's not your keys they're stealing or your campervan they're vandalising!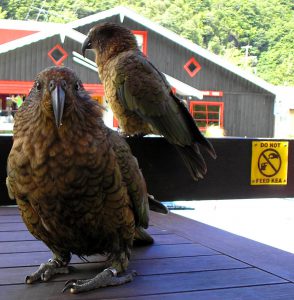 Stop at a café in the Arthur's Pass township – you won't be disappointed.
DAY 13 – CASTLE HILL
Now begins to drive back to Christchurch. It's only two hours from Arthur's Pass, but there are a few things to see along the way. You must stop at Castle Hill.

You could also take a tour of the gorgeous Waimakariri River canyon with Alpine Jet. (The turnoff is just before Springfield.) If you have time, you could swing up to Hanmer Springs and Kaikoura, but you probably won't have time!
DAY 14 – CHRISTCHURCH AGAIN
Well, you made it. You're back in Christchurch. It's time to drop off your campervan and head home. We hope you found this itinerary helpful and inspiring!