This trip begins in Auckland and ends in Christchurch, but, of course, it can be done the other way as well. There are international airports in both cities; campervan rentals can be picked up in these locations.
There are no free camping spots within Auckland City, so you'll have to book yourself into a campground for the first night. How do you find a campground? Simply download the Rankers camping map. It's the best database of New Zealand campsites out there – and it's free.
DAY 1 – AUCKLAND
It's laughable to attempt Auckland in one day, but unless you want to miss out on other amazing things you'll have to. If you've never been before, you'll want to explore centre: Queen Street, the waterfront and the Sky Tower. (Just don't try driving anywhere early in the morning, or between 3pm and 7pm – the traffic is murder!) There are many fantastic restaurants down by the waterfront, but if you fancy throwing yourself straight into New Zealand's nature, head for the Arataki Visitor Centre in the Waitakere Ranges Regional Park. It provides a great introduction to New Zealand's native wildlife and that essential Kiwi experience, the bush walk.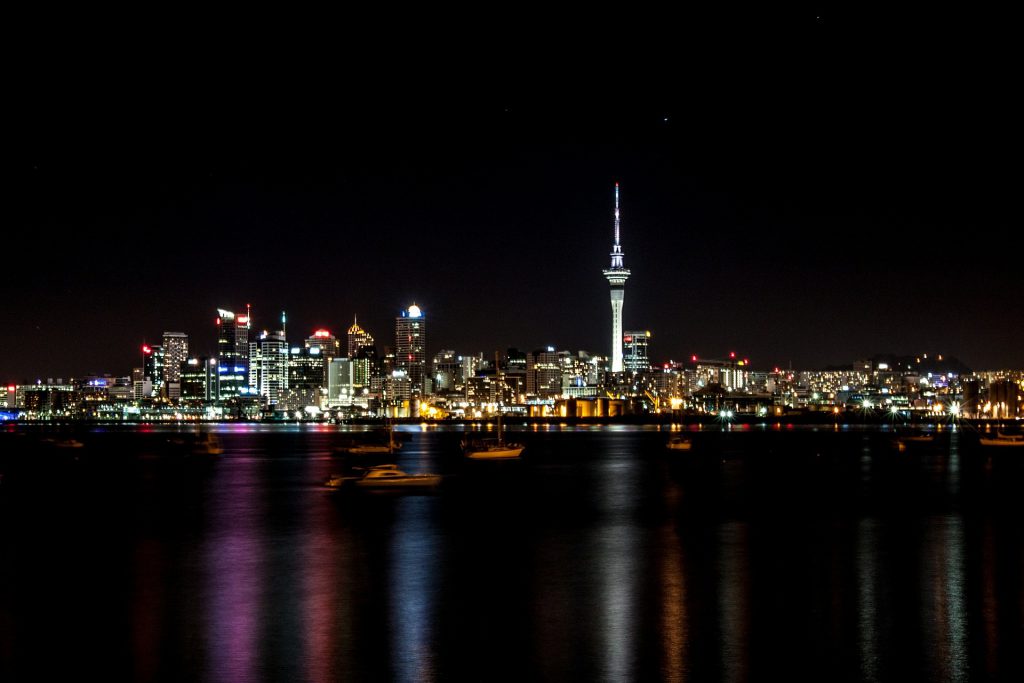 For more places to go in Auckland, check out the Top 10 Things to Do in Auckland.
DAY 2 – THE ROAD TO WAITOMO
You have to go to Waitomo because it has a truly wonderful network of caves. It only takes three hours to drive there from Auckland, but there are a few interesting places to stop along the road. The most obvious is Hamilton's best (and practically only) tourist attraction, Hamilton Gardens. If you like gardens, this is absolutely not to be missed. You could also, from Hamilton, drive forty minutes out of your way to see one of the best waterfalls in New Zealand, Bridal Veil Falls.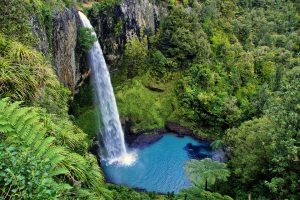 Once you reach Waitomo, the first thing you should do (if there's still time in the day) is explore the Visitor Information Centre. In it, you'll find a quite brilliant caving museum, complete with a replica cave you can crawl through! The only free camping spot in Waitomo is Roselands, but only if you have a fully self-contained campervan like this one.
DAY 3 – WAITOMO
If you only do one thing in Waitomo, do the Spellbound Glowworm and Cave Tour. Drifting in a silent boat through a cave filled with blue star-like glowworms is a magical experience like no other. It's worth the cost – believe us! There are also more adventurous activities to try, including cave abseiling and tubing. If you fancy something above ground (and free) then do the Waitomo Walkway – there are some quite impressive sights to be had.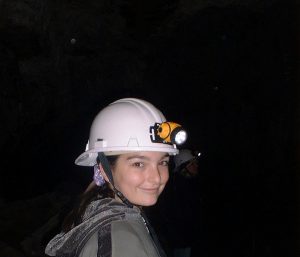 DAY 4 – MOUNT MAUNGANUI VIA HOBBITON
If you're not a Lord of the Rings fan, you might want to skip the Hobbiton Movie Set, but if you are then it's definitely worth going. It's an hour and a quarter's drive from Waitomo. On the way, you'll pass through the tiny town of Kihikihi, which has a few colonial buildings to explore. From Hobbiton, it's another hour's drive to Mount Maunganui, past McLaren Falls and through Tauranga. The best place to stay in Mount Maunganui is the holiday park at the foot of the Mount itself, but Tauranga has a quite a few free camping spots within it.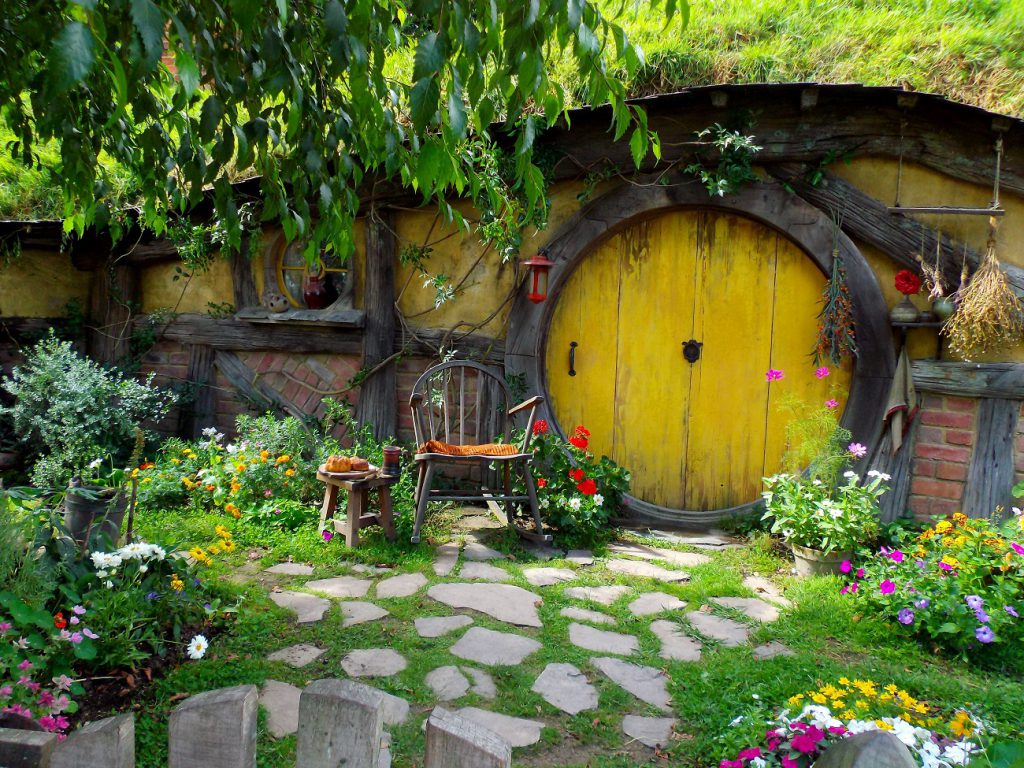 DAY 5 – MOUNT MAUNGANUI
Mount Maunganui lies at the end of an isthmus. On one side is a sheltered beach that's nice for paddling; on the other is a lively beach that's great for bodyboarding. You can take a walk around the base of the Mount or climb it for awesome views. Next to the holiday park at the foot of the Mount are some pretty good hot pools, and there are heaps of activities on offer, such as kayaking and paragliding. Don't visit the Mount without taking a stroll along Tauranga's waterfront, though!

DAY 6 – ROTORUA
Only an hour's drive from Tauranga, Rotorua is one of New Zealand's hottest tourist destinations. It's the place to see natural hot springs, bubbling mud pools and spectacular geysers, as well as learn about traditional Maori culture. The first place you should go, however, is Government Gardens, just to marvel at the beautiful edifice of the Rotorua Museum. It's a brilliant museum too; it tells you all about the volcanic eruption that devastated Rotorua in 1886. The Blue Baths next-door are also a treat: naturally heated pools in sumptuous 1930s surroundings.

Rotorua is so full of exciting tourist activities that it's worth knowing How to Do Rotorua on the Cheap. There are no free camping spots in Rotorua; the nearest spot is about twenty-five minutes out. (See the Rankers map.)
DAY 7 – FROM ROTORUA TO TAUPO
An hour's drive south of Rotorua is New Zealand's largest lake, Taupo. (We recommend visiting Waimangu Volcanic Valley on the way down.) There are plenty of camping spots in the area, both free and paid, and plenty of things to do. If you didn't get enough geothermal thrills in Rotorua, go for a walk around the Craters of the Moon – it's only $8 – or soak in a geothermal spa. If you fancy a rush of adrenaline, catch a jet boat ride or go skydiving. The Maori Rock Carvings are pretty cool, as are Huka Falls.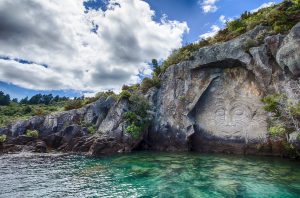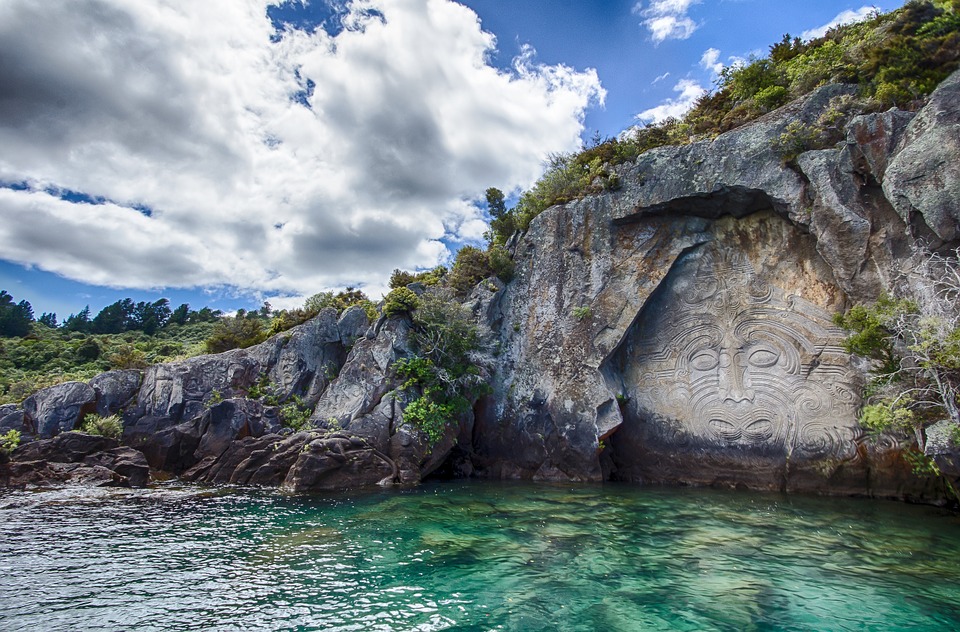 Of course, Lake Taupo itself is a beautiful sight, especially with the snow-peaked volcanoes of Tongariro National Park in the background.
DAY 8 – TONGARIRO NATIONAL PARK
On your way down to Wellington, you'd be mad not to stop for a walk in Tongariro National Park. Just look how beautiful it is!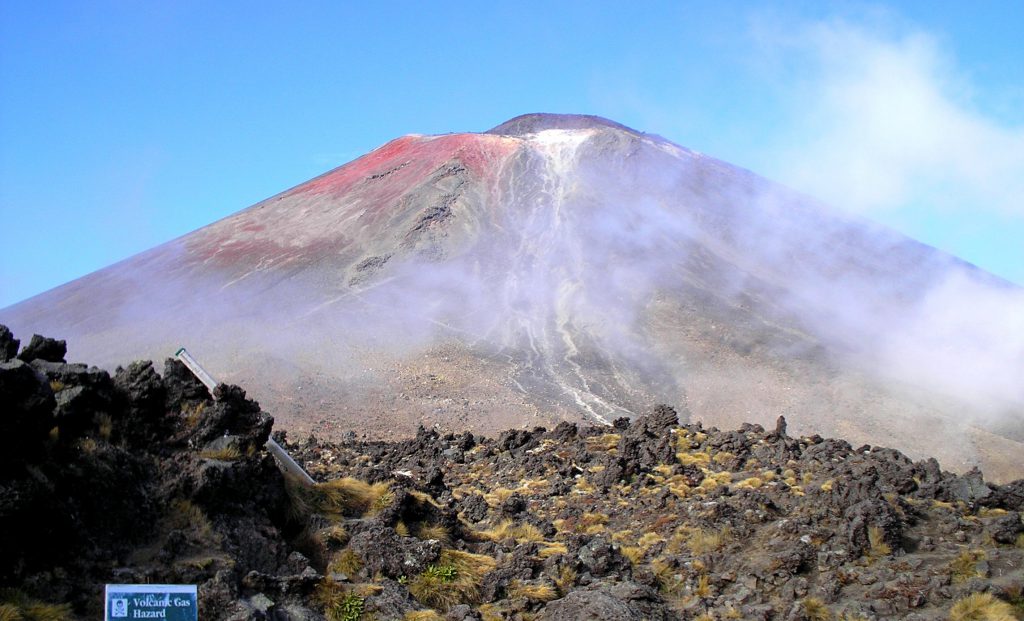 You don't have to be mountain climber – there are lots of short, easy walks to do as well as more challenging hikes.
DAY 9 – WELLINGTON
New Zealand's capital city is notoriously windy – so perfect for a whirlwind visit. You must see the harbour front and Mount Victoria and, if there's time, go round New Zealand's best museum, Te Papa. Wellington is also the home of Weta Workshop – a must for Lord of the Rings fans. There's even free overnight campervan parking at Evans Bay Marina.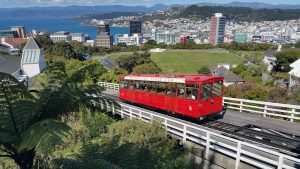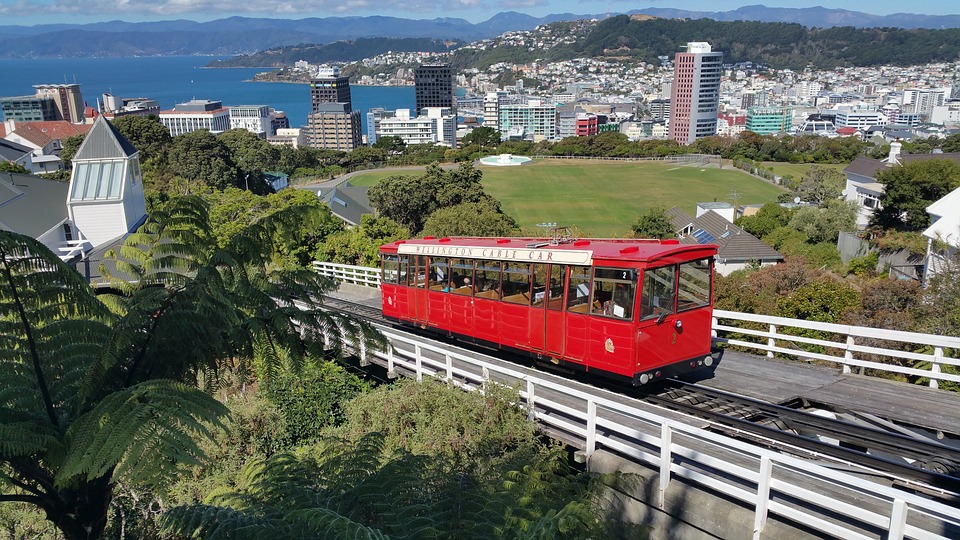 DAY 10 – ACROSS COOK STRAIT
The time has now come to get yourself and your campervan over to the South Island. To do this, you must book a Cook Strait ferry crossing. (And, for summer crossings, we recommend you book well in advance.) The ferries leave from Wellington and take about three hours to arrive in Picton. Once you're in Picton, you can take your pick of everything the Marlborough Sounds have to offer: cruises, wineries, kayak tours, dolphin safaris… You can even step on board the last surviving Australian convict ship, the Edwin Fox – it once carried Florence Nightingale in the Crimean War!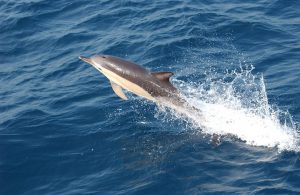 In this area, there are campsites galore, but we'd still recommend booking somewhere in summer.
DAY 11 – KAIKOURA
Kaikoura is the whale-watching capital of New Zealand, but there are dolphins and seals as well. In fact, there's a free camping spot at Paparoa Point that's right next to a seal colony! Kaikoura is about two hours south of Picton. When you get there, make sure you enjoy a meal of crayfish, because that's what the town's name means in Maori.
DAY 12 – HANMER SPRINGS
About two hours from Kaikoura, Hanmer Springs is an alpine village famous for its thermal spas. Here you can take the chance to relax before you head off on the final stage of your adventure. Or not, as there's a whole range of thrilling activities to be had there! Jet boating, bungy jumping, quad biking, white-water rafting and horse trekking are just some of the things on offer around Hanmer Springs. There's only one free camping spot, however, which is run by the Department of Conservation: Hanmer Field Base and Picnic Area. Of course, it's self-contained vehicles only.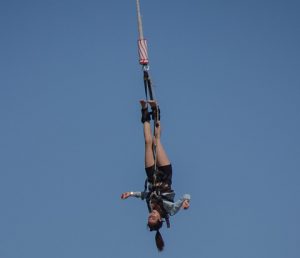 DAY 13 – CHRISTCHURCH
Less than two hours south of Hanmer Springs lies the final destination on this trip: Christchurch. Catch a vintage tram ride around this recovering city and punt up the River Avon like an Edwardian. Stroll around the Botanical Gardens, visit the Willowbank Wildlife Reserve, or get a taste of the experience of a scientist at the South Pole at the International Antarctic Centre. (It may be worth noting that the Antarctic Centre is close to the airport.)
There are no free camping spots in Christchurch, so make sure you have a campground booked.
DAY 14 – A FINAL LOOK AT CHRISTCHURCH
The fortnight is over. You may have time for a last-minute activity or two before you say goodbye to your campervan; you may not. Either way, you'll wish you had a few days more. Here are some other things you can do in Christchurch.
We hope you found this itinerary helpful and inspiring! You may wish to spend more time in the South Island than in the North Island. If this is the case, head straight to Rotorua from Auckland – a journey of about three hours – and straight from Rotorua to Wellington – a journey of about five and a half hours.