This two-week itinerary begins and ends in Christchurch. If you fancy delving into New Zealand's history, from gold-rush towns to ancient Māori cave paintings, this is the trip for you. As always, we recommend making your journey easier and cheaper with this free camping map.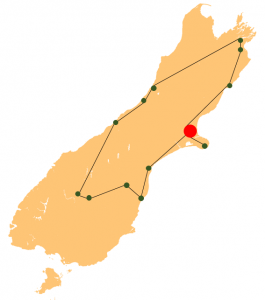 DAY 1 – CHRISTCHURCH
After picking up your Christchurch campervan hire, head to the city centre and catch an old-fashioned tram ride. This will take you past the Canterbury Museum and the Christchurch Botanic Gardens. The gardens lie nestled in a bend of the Avon River, where you'll find a delightful Edwardian relic: the Antigua Boatsheds. We highly recommend going for a punt!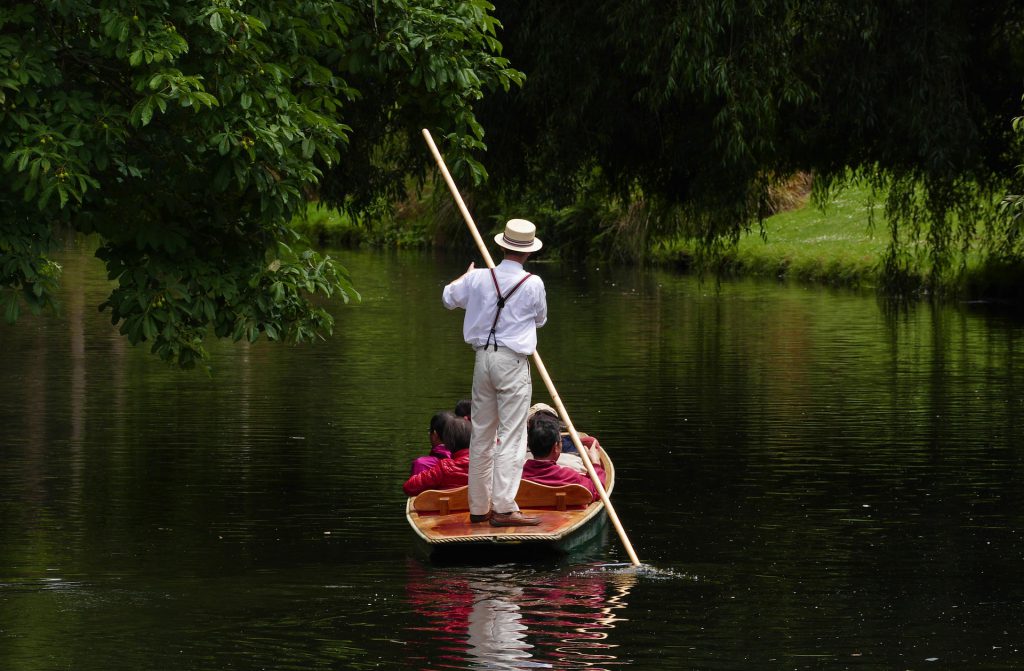 DAY 2 – AKAROA
An hour-and-a-half southeast of Christchurch, Akaroa was settled by the French in 1840. As such, you'll find a collection of charming French-style colonial cottages, embraced by white picket fences. You can learn about Akaroa's history by going on a guided walk, or by visiting Akaroa museum. Don't forget to visit the Okains Bay Museum as well – it houses one of the best collections of Māori artefacts in the world. Before you leave Akaroa, we recommend visiting the Giants House. Not only is it a beautiful historic house, it's owned by an artist; the garden is full of weird and wonderful mosaic sculptures!
DAY 3 – CHRISTCHURCH
Back in Christchurch before you drive north, you should endeavour to visit Riccarton House, one of the best historic houses in the country. You can go walking in the bush there too, and it's got a restaurant.
DAY 4 – KAIKOURA
Kaikoura is an old whaling settlement three hours north of Christchurch. These days, though, its money comes from whale watching rather than whale hunting. If you're not too busy cruising for wildlife, check out the museum and Fyffe House, Kaikoura's oldest surviving settlement. It was built on whalebone foundations! (Unfortunately, it was slightly damaged by the Kaikoura earthquake in 2016. Hopefully, it will be open again by the time you go.)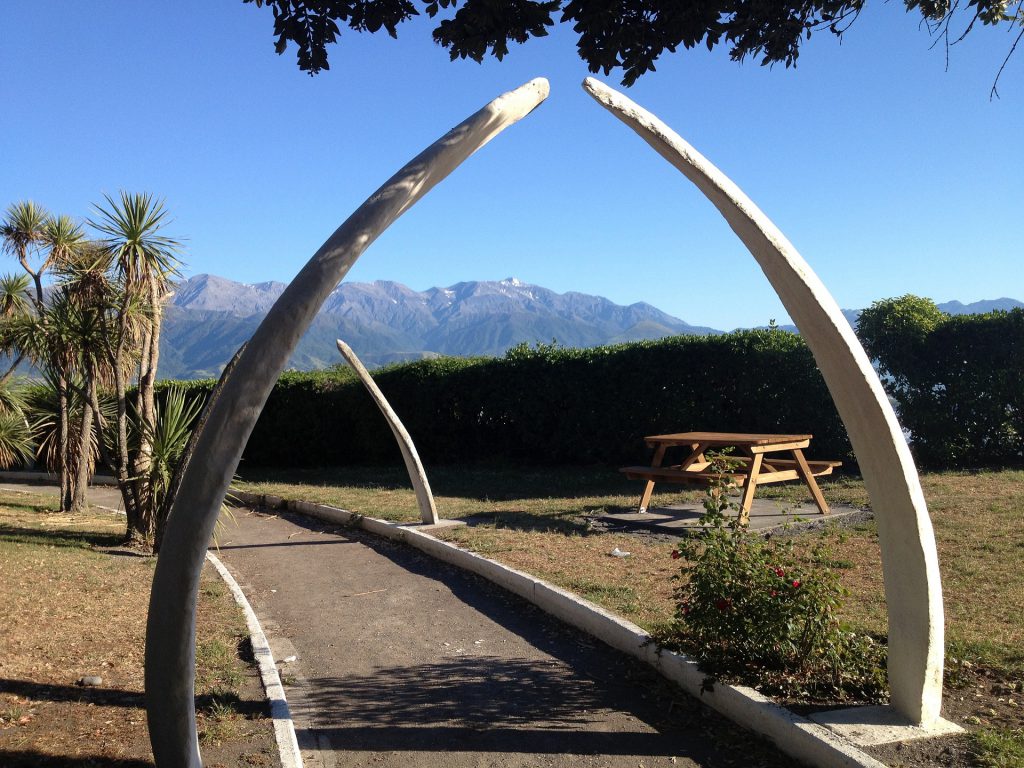 DAY 5 – BLENHEIM (OR ARTHUR'S PASS)
Before the Kaikoura earthquake, the drive from Kaikoura to Blenheim took about two hours along a pleasant coastal road. Now, however, due to the damage sustained by State Highway 1, the drive takes about six hours. If State Highway 1 above Kaikoura is not open again by the time you come, we recommend rerouting your Magical History Tour of the South Island. Instead of visiting Kaikoura, Blenheim and Picton, drive straight from Christchurch to Greymouth via Arthur's Pass.
Arthur's Pass Village is a historic alpine settlement in the middle of a beautiful national park. In the Visitors Centre, you'll find a preserved nineteenth century stagecoach and, a little way up the road, a roadman's cottage from 1879.
Having said that, if you do go to Blenheim, visit the Omaka Aviation Heritage Centre. It houses Sir Peter Jackson's collection of World War I planes, with fantastic displays created by Weta Workshop! Also check out Marlborough Musuem at Brayshaw Heritage Park. If you want to see what Blenheim looked like in 1900, you can walk down a replica street and visit a cottage made of mud and grass. (Timber was scarce there in the olden days.)
DAY 6 – PICTON
Gateway to the picturesque Marlborough Sounds, Picton is home to the world's oldest surviving merchant ship, the Edwin Fox. It once transported convicts to Australia, and even had Florence Nightingale onboard during the Crimean War. And you can actually go inside it! Picton is only half an hour north of Blenheim. Of course, it has a great museum as well, right on the waterfront.
DAY 7 – GREYMOUTH
Nearly five hours southwest of Picton, Greymouth is a historic mining town. The area around Greymouth offers an array of bushwalks, taking in various old, abandoned mining ruins, and the town itself offers, as many towns do, a heritage walk. Greymouth's main historical attraction, however, is Shantytown, a recreated gold-rush settlement. You can explore the buildings, pan for gold and take a ride on a steam train in New Zealand's very own Wild West!
Now, if you missed out on Kaikoura, Blenheim and Picton, you'll have two or three days extra to enjoy the next few destinations on our itinerary. You'll have the time to explore the West Coast more thoroughly. If you're after more historical attractions, you could try Westport's Coaltown Museum, and we recommend spending a day in Reefton, the first town in New Zealand to get a public electricity supply.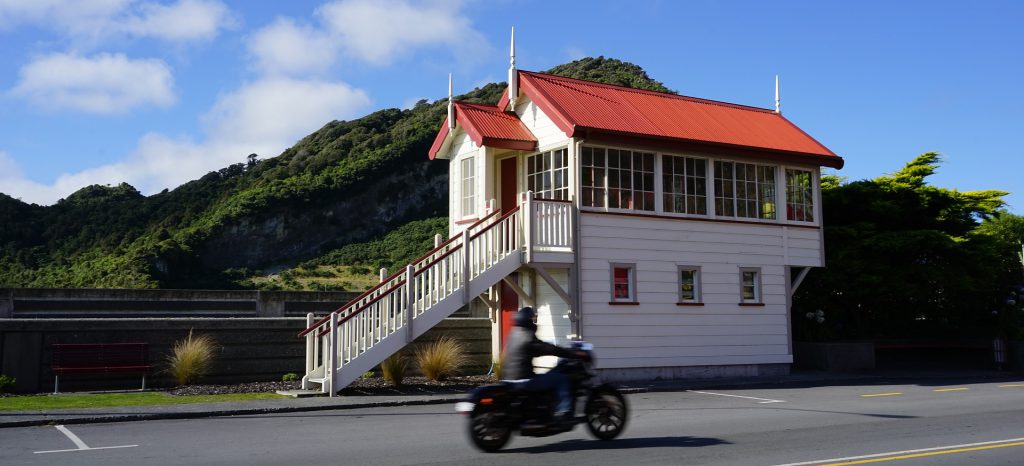 DAY 8 – HOKITIKA / OKARITO
If you didn't miss out on Kaikoura, Blenheim and Picton, you might now have time to stop a while in Hokitika. If you do, there's a good museum in a nice, old building, and you can do a self-guided walk around the town's historic sites. Hokitika is half an hour south of Greymouth. Alternatively, you could stop in Okarito, less than two hours south of Hokitika. It's home to Donovan's Store, the oldest building on the West Coast, and a reconstructed gold-rush boat shed.
DAY 9 – ARROWTOWN
Arrowtown is a five-hour drive from Okarito, but you won't be bored on the road. It passes through glacier country, along the Haast River, through Mount Aspiring National Park, and by Lakes Wanaka and Hawea. That is to say it's one of the most beautiful drives you will ever do, and Arrowtown in one of the prettiest towns you will ever visit. Explore the old-fashioned boutiques on the historical streets, pan for gold in the gorgeous Arrow River, visit the museum and, if you're a true history buff, don't leave without seeing the recreated Chinese gold-rush settlement. Of course, there's no way you'll be able to do all this in one day after driving all the way from Okarito, so this trip plan allows for another day in and around Arrowtown.
DAY 10 – ARROWTOWN
If you like stone ruins, visit Thurlby Domain, a little outside Arrowtown. Don't be surprised if you stumble upon a wedding – the ruins are very picturesque. If you want to learn about the Māori history of the area, book a Kiwi Haka experience in nearby Queenstown.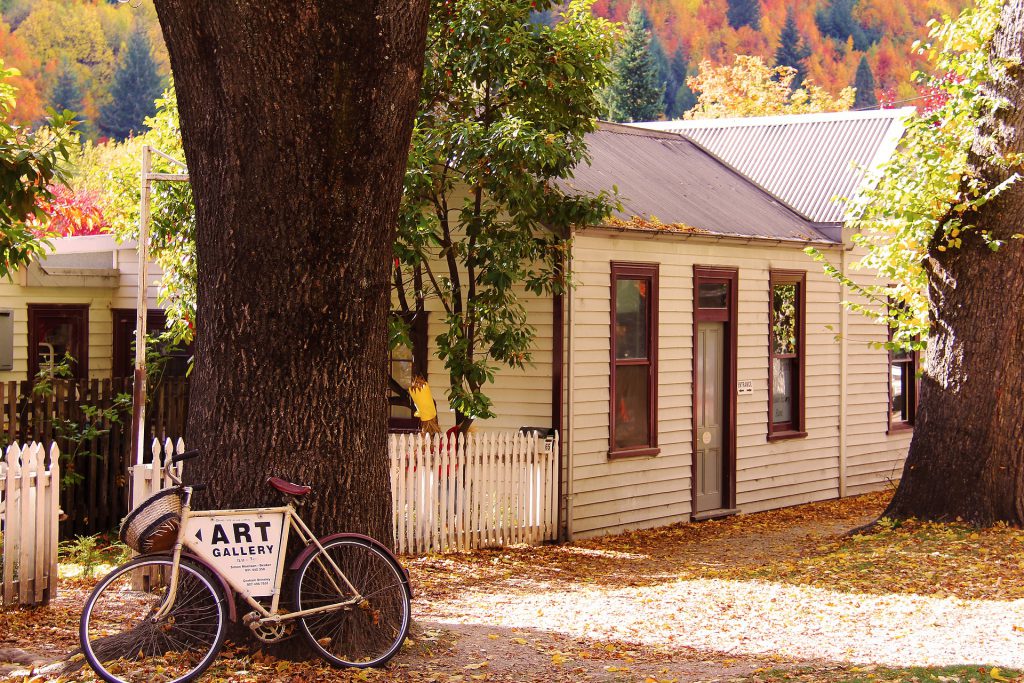 DAY 11 – CROMWELL
Less than an hour east of Arrowtown, Cromwell is surrounded by natural beauty and steeped in history. It has a delightful heritage precinct, a collection of rebuilt old buildings that were rescued when the Clyde dam was completed, flooding part of the town. They now house boutique shops, art galleries and cafés. There's also a small museum and, on your way from Arrowtown, you could visit the Goldfields Mining Centre.
DAY 12 – DUNTROON
Two hours east of Cromwell, Duntroon is a small town next to an important archaeological location: Takiroa Rock Art Site. Here, you can see the ruins of some ancient Māori rock paintings. The whole area has a fascinating geological history. If fossils interest you, head to Duntroon's Vanished World Centre. Duntroon also has an old gaol and forge you can visit.
DAY 13 – OAMARU
Half an hour southeast of Duntroon, Oamaru has such a well-preserved Victorian precinct that it's become a haven for all things steampunk. You can wander round the old-fashioned shops – including a bookbinder's – and get your photo taken in a Victorian costume. The North Otago Museum will give you a good history of the area, but you can also visit the childhood home of famous New Zealand writer Janet Frame. If you find yourself with time to spare on your way back up to Christchurch, you could learn more about Māori rock art at Te Ana Rock Art Centre in Timaru, an hour north of Oamaru.
DAY 14 – CHRISTCHURCH
Drive for two hours or so northeast from Timaru and you'll be back where you started your South Island history tour, in Christchurch. We hope this itinerary has given you some ideas, and inspired you to visit at least a few of New Zealand's fascinating historical attractions.