This trip begins and ends in Christchurch. If you're after a whirlwind tour of the very best that New Zealand's South Island has to offer, this is the itinerary for you.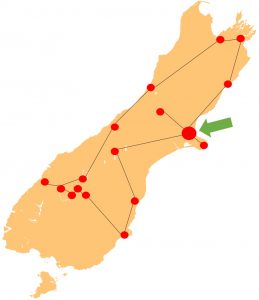 DAY 1 – CHRISTCHURCH
The first thing you should do after picking up your New Zealand campervan rental in Christchurch is take an old-fashioned tram tour of the city centre. This will help you get your bearings and point out Christchurch's main attractions.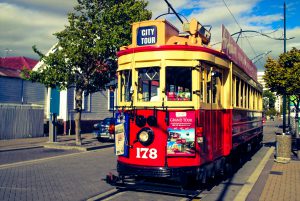 Don't miss out on the Botanic Gardens – Christchurch isn't called the Garden City for nothing! We recommend going for a punt on the River Avon too.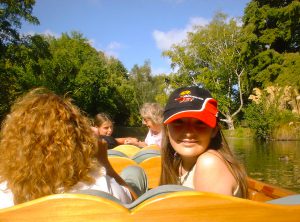 As for where to stay on your first night, you could book a campervan site at the Christchurch Top 10 Holiday Park, or if you'd prefer somewhere cheaper, use this free New Zealand camping app to find your ideal spot.
DAY 2 – AKAROA
The French colonial town of Akaroa makes for a wonderful daytrip from Christchurch. As well as being the home of some lovely buildings and restaurants, it's the only place in which you can swim with Hector's dolphins, the smallest dolphins in the world.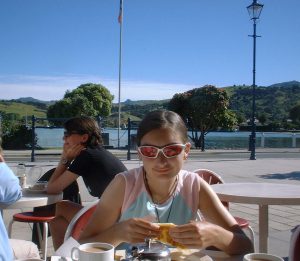 We recommend visiting the Giant's House, a fascinating historic house owned by an artist with a weird and wonderful sculpture garden.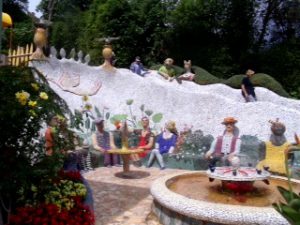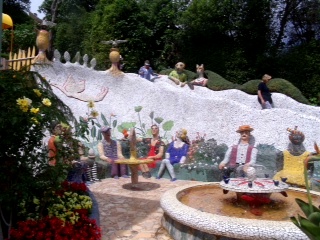 There's also a museum and cheese factory, as well as several walks with fantastic views. Note that Akaroa has a free overnight campervan parking spot by the water on the Rue Brittan, but you'll need to get there early to take advantage of it.
DAY 3 – CHRISTCHURCH
Spend another day mooching around Christchurch before heading off to see the rest of the South Island. Willowbank Wildlife Reserve is great to visit, as is Rutherford's Den, especially if you've got kids with you. The Cardboard Cathedral, built as a temporary replacement for the cathedral destroyed by the 2011 earthquake, is well worth a look…
And there are plenty of wineries in the surrounding area, but if you're after adventure, you could try canyoning. Of course, there's so much more to do around Christchurch, but that will have to wait until we return at the end of this trip.
DAY 4 – MOUNT COOK
Prepare yourself for a day of breathtaking driving. From Christchurch, it's three hours to Lake Tekapo, which boasts one of the most beautifully situated churches in the world.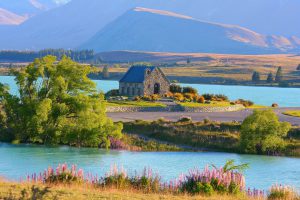 See what we mean? There's also a hot pool complex called Tekapo Spring that overlooks the lake and surrounding mountains. We recommend a relaxing dip before driving on to Mount Cook. Of course, there are plenty of walks to do around New Zealand's highest peak, each more stunning than you can imagine. If your budget allows, get yourself a helicopter flight.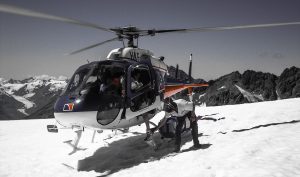 Finally, freedom camp for the night on the shore of Lake Pukaki, just so you can wake up to this view:


DAY 5 – OAMARU
From Pukaki, it's a two-hour drive to Oamaru, famous for two things: steampunk and little blue penguins. It has a wonderfully preserved Victorian Precinct with charming shops and a very strange steampunk art gallery. We recommend exploring the town and the Botanical Gardens during the day and then, when evening comes, going to see the little blue penguins waddling up the beach to their nests.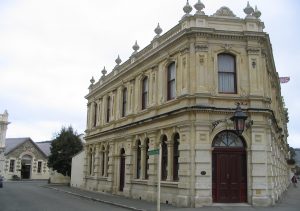 DAY 5 – DUNEDIN
It takes an hour-and-a-half to drive from Oamaru to Dunedin. On your way down, make sure you stop to look at the famously weird Moeraki Boulders.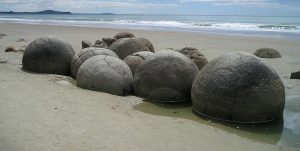 Since you only have a day in Dunedin, head straight for the gorgeous Otago Peninsula, home of the world's only mainland royal albatross colony.


You should also have a look at the old railway station and, if there's time, catch a vintage train ride through Taieri Gorge.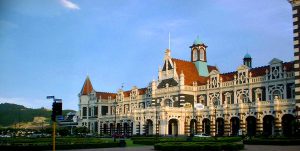 DAY 7 – CROMWELL
On your way from Dunedin to Arrowtown, we recommend stopping for a while in the town of Cromwell. Surrounded by natural beauty and steeped in history, Cromwell has a delightful heritage precinct filled with boutique shops, art galleries and cafes.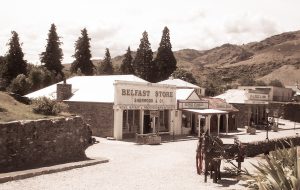 We also recommend stopping further down the road at the Kawarau Gorge Suspension Bridge. It's a beautiful spot, and you get to watch people bungy jumping – you may even want to try it yourself!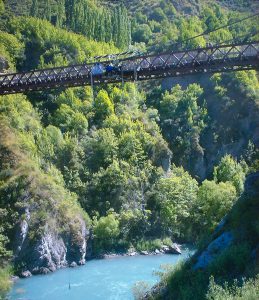 Afterwards, camp for free at the Crown Range Summit.
DAY 8 – ARROWTOWN
Arrowtown is an idyllic gold-rush-era settlement beside a picturesque river. You'll want to spend a while exploring the charming streets and visiting the Lakes District Museum.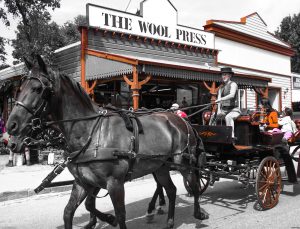 Make sure you take a look at the old Chinese settlement too, and if you're a Lord of the Rings fan, you can find where they filmed the Ford of Bruinen along the Arrow River. You could also have a go at panning for gold!
DAY 9 – QUEENSTOWN
Not far from Arrowtown, Queenstown is the reason many choose to visit New Zealand in the first place. Situated at the edge of a stunning lake with a backdrop of snow-capped mountains, it's a town simply jampacked with adventure. The first adventure we recommend is a jet boat ride in the heart-stoppingly beautiful Shotover River Canyons – make sure you book in advance.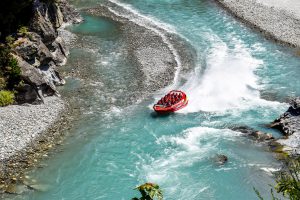 For a more relaxing aquatic activity, take a cruise on Lake Wakatipu. Then spend the evening exploring the town. If you're visiting Queenstown in winter, of course, you could always go skiing.
DAY 10 – MILFORD SOUND
Milford Sound, the supposed eighth wonder of the world, makes for a perfect daytrip from Queenstown. It's a four-hour drive to get there, though, so you may wish to spend the night at Milford Sound's only campground, or join a tour group from Queenstown. Once you're there, you can go cruising on the cold, mirror-like water – you may even encounter dolphins.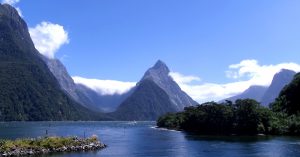 If you have time on the way back, you could do the short but awesome Chasm Walk or take a detour to Lake Marian Falls.
DAY 11 – GLENORCHY
Another perfect daytrip from Queenstown, Glenorchy is one of the most beautiful places on the planet. The place you're driving to, about an hour out of Queenstown, is called Paradise – and it's easy to see why. We recommend booking yourself a horse trek such as Dart Stables' Ride of the Rings tour – such epic scenery deserves an epic mode of transportation!

There are also kayak tours available, or if you'd prefer to do something free, you can choose from a selection of walking tracks. Later, why not treat yourself to a meal at Kinloch Lodge?
DAY 12 – QUEENSTOWN
This is your final day in Queenstown, so make the most of it! We recommend going luging, which is similar to go-karting down a big hill and incredibly fun.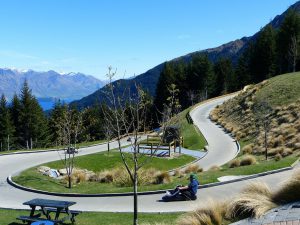 If you haven't made it to the top of Queenstown Hill yet, do that – the view is worth the steep climb.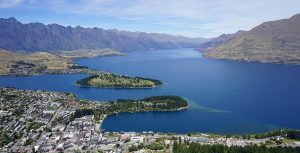 Queenstown Gardens are nice to visit, and there plenty of picturesque walks to embark upon. Thurlby Domain is a rarity in New Zealand in that it contains some rather pretty stone ruins. You could visit it before heading up to Wanaka.
DAY 13 – WANAKA
Lake Wanaka is an hour's drive northeast of Queenstown. On your way up, stop for lunch at the iconic Cardrona Hotel. It was built in 1863 and today offers travellers decent soul food and old-world charm.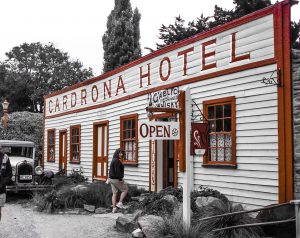 Once you get to Wanaka, park up on the lake's edge and go for a swim in the glacial water – we dare you!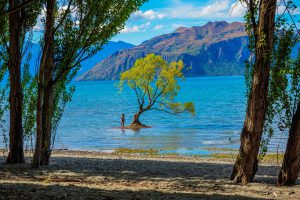 Other things you can do include visiting a lavender farm, climbing up the side of a waterfall and sampling wine at a vineyard with an amazing view. For a free (and highly recommended) activity, take a walk up Roy's Peak Track.
DAY 14 – FOX AND FRANZ JOSEF GLACIERS
From Wanaka, it takes three hours of incredibly beautiful driving to reach Fox Glacier, and you'll definitely want to stop along the way. Don't miss the Gates of Haast in Mount Aspiring National Park.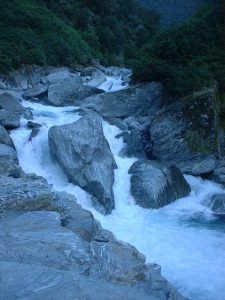 Fox Glacier, like Franz Josef Glacier, can be easily walked up to for free – no mountain climbing necessary. We recommend seeing both, as they are different and each wonderful in their own way.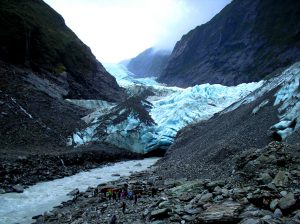 Franz Josef is half-an-hour's drive from Fox and has a complex of hot pools you can relax in. If you want to actually walk on top of one of the glaciers, there are guided tours available. You can even go skydiving over them!
DAY 15 – GREYMOUTH
It takes a little over two hours to drive from Franz Josef to Greymouth, but we recommend taking a detour to see the turquoise waters of Hokitika Gorge. In Greymouth, you could spend a few hours at Shantytown, a recreated gold-rush settlement in which you can explore the buildings, ride a steam train and pan for gold. You should take the opportunity to drive up the West Coast and see the famous Pancake Rocks at Punakaiki.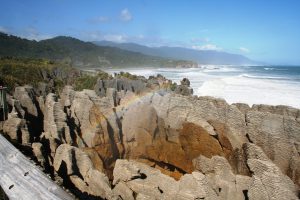 Drive another hour up to Westport and you can see the seal colony at Cape Foulwind, but beware of camping in remote areas on the West Coast – the sandflies are murder!
DAY 16 – NELSON
Sunny Nelson is a three-hour drive northeast of Westport. Once there, we recommend you visit Founders Heritage Park and – whatever you do – don't leave the region without venturing into the Abel Tasman National Park. If you have time, take a kayak tour out to see the striking Split Apple Rock.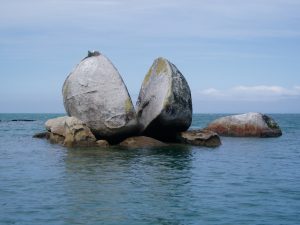 As for where to stay the night, we recommend the Pelorus Bridge Campground on the way to Picton, especially if you're a Peter Jackson fan. The Pelorus River is where they filmed the barrel drop scene in the second Hobbit film.
DAY 17 – PICTON
Two hours from Nelson, Picton is home to the Edwin Fox, a nineteenth century convict ship that once had Florence Nightingale on board – and you can actually go inside it! Picton is also the gateway to the paradisal patchwork of water, rainforest and vineyards that is the Marlborough Sounds.

On your way out of Picton, you might like to stop at the Omaka Aviation Heritage Centre in Blenheim – it houses Peter Jackson's personal collection of World War I planes, with fantastic displays created by Weta Workshop!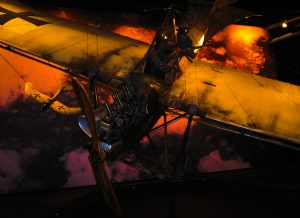 Your next step will depend on whether or not the State Highway 1 route between Picton and Kaikoura has been reopened, following the 2016 earthquake. If it hasn't, and you want to visit Kaikoura, you should get going promptly, as the alternate route takes six-and-a-half hours, as opposed to two. (We recommend, in this case, camping near Murchison, as you can take a tour to see a perpetually burning flame in a magical forest setting.)
DAY 18 – KAIKOURA
Kaikoura is a much-loved tourist destination. Once a whaling station, it's now a haven for whale-watching. You can also swim with dolphins and kayak with seals, all within sight of a row of snow-capped mountains. If you do nothing else in Kaikoura, though, east a crayfish. The town's name literally means 'meal of crayfish'!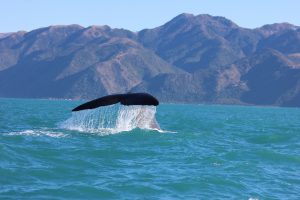 DAY 19 – CHRISTCHURCH
We're back where we started, but we still have a couple of days left to explore the area around Christchurch. We recommend visiting Rakaia Gorge – the water is a breathtakingly creamy shade of blue. If you haven't gone jet boating yet, or if you want to go again, now's the time: either on the Rakaia River, or the equally beautiful Waimakariri River. If you're a Lord of the Rings fan, take the opportunity to visit Edoras.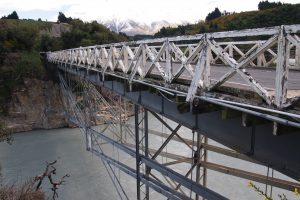 DAY 20 – ARTHUR'S PASS
Take a daytrip out of Christchurch to visit the alpine village of Arthur's Pass. The scenery is incredible, and, if you haven't already, you'll be able to see the hilariously intelligent kea, the world's only alpine parrot.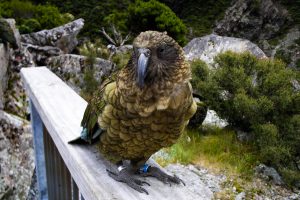 On the way there or back, make sure you visit Castle Hill.

Day 21 – CHRISTCHURCH
Before you drop your campervan off on your final day of this three-week South Island journey, we recommend visiting the Antarctic Centre. It's conveniently close to the airport and especially cool for kids. There's a replica of Scott's hut, a penguin encounter, rides, huskies, a storm simulator and so much more.
We hope this itinerary inspired you for your own South Island road trip. If you're looking to book a campervan in Christchurch, or elsewhere in New Zealand, we recommend going with these guys.