This trip begins in Auckland and ends in Christchurch. It's an epic journey that encompasses every region of the country. If you're lucky enough to be spending six months travelling around New Zealand, this will help you plan your route.
Because of said epicness of this itinerary, it's been broken up into twenty-four weeks. Twelve weeks are spent in the North Island; twelve weeks in the South Island.
(If you plan to hire or buy a campervan in New Zealand, make sure you download the Rankers map. It shows every campsite in the country, including places you can stay for free. Also, don't forget to book ferry tickets – you'll need them to cross between the islands.)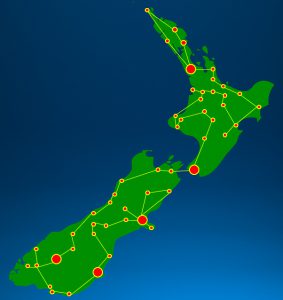 WEEK ONE – AUCKLAND
After landing at Auckland Airport and picking up your vehicle, you'll want to spend a few days exploring New Zealand's most happening region. This trip allows for two weeks in Auckland. (We've suggested one week in Auckland and then a week up in Northland, followed by another week in Auckland before continuing south.) So, what is there to do in Auckland? Well, lots. Here's a list of the essentials:
Walk around the centre of Auckland City, including Queen Street, the Viaduct Basin and Wynyard Quarter, the Sky Tower, Victoria Park Market and the Art Gallery
Visit the grand, old Auckland Museum, at the heart of the beautiful Domain, and wander through the Wintergardens
Eat an old-fashioned ice-cream at Mission Bay
Catch the ferry to the island volcano of Rangitoto, creep through the ancient lava tunnels and marvel at the enormous caldera
Go tramping in the Waitakere Ranges Regional Park – that quintessential Kiwi experience – through the gateway of the excellent Arataki Visitor Centre
Go surfing (or bodyboarding) at Bethells Beach, revelling in the velvety, black sand, spooky caves and mystical beauty
Gasp at the thriving gannet colony perched upon the cliffs overlooking Muriwai Beach
Go to Auckland Zoo
Experience the life of Auckland's early European settlers at Howick Historical Village
Learn about New Zealand's native birds on Tiritiri Matangi island
Visit Cornwall Park, a delight for children and adults alike
Explore the charming suburbs of Parnell and Devonport, with their colonial villas and Victorian-flavoured boutiques
Cruise around Auckland Harbour, taking in the many islands, striking skyline and pods of playful dolphins
Sample some fine wine on Waiheke Island
Dine at the Riverhead, New Zealand's oldest riverside tavern, and taste a bit of local history alongside the scrumptious cuisine – you can even arrive by ferry from the centre of Auckland City
And we're sure you'll find plenty more to do once you arrive. Auckland is a rapidly growing city; it becomes more exciting by the month. The balance between nature and human settlement is refreshing. If you can avoid driving in Auckland, however, do so. There are trains, buses and ferries – you might consider purchasing an Auckland Transport HOP card, even if you're only going to be in Auckland for a couple of weeks. You don't want to be stuck in your campervan in heavy traffic!
WEEK TWO – NORTHLAND
After a week in Auckland, we recommend driving north. The pace of life is slower up north. (No, you won't have had chance to go everywhere you wanted to go in Auckland yet, but you will be back!) If you don't fancy driving up State Highway 1, you could take the less busy State Highway 16. This will take you through the historic town of Helensville, which has hot springs and a lovely little railway museum; the old railway station houses a café, an art gallery and an antiques shop. State Highway 16 converges with State Highway 1 at Wellsford. From here, continue on up until you reach the Scottish town of Waipu.
Consider spending a night in Waipu. It's a small town, but it has a gorgeous beach, interesting shops and a surprisingly brilliant museum with a fascinating story to tell. There are some glowworm caves nearby, which is great if you want a free alternative to the glowworm caves at Waitomo, but the caves at Waitomo are still worth paying for. (We'll explain why later.) From Waipu, proceed up through Whangarei to Russell.
Russell is the oldest European settlement in New Zealand. Back in the early nineteenth century, it had a very seedy reputation: a seething port of smugglers and whores, drinking, gambling and generally scandalising the poor, put upon missionaries. Nowadays, it exudes colonial charm. Dine on fresh fish and local wine as you watch the sun set over the sea, cruise around the Bay of Islands, swim with dolphins, visit New Zealand's oldest church and don't forget the Pompallier Mission House, a working Victorian printery.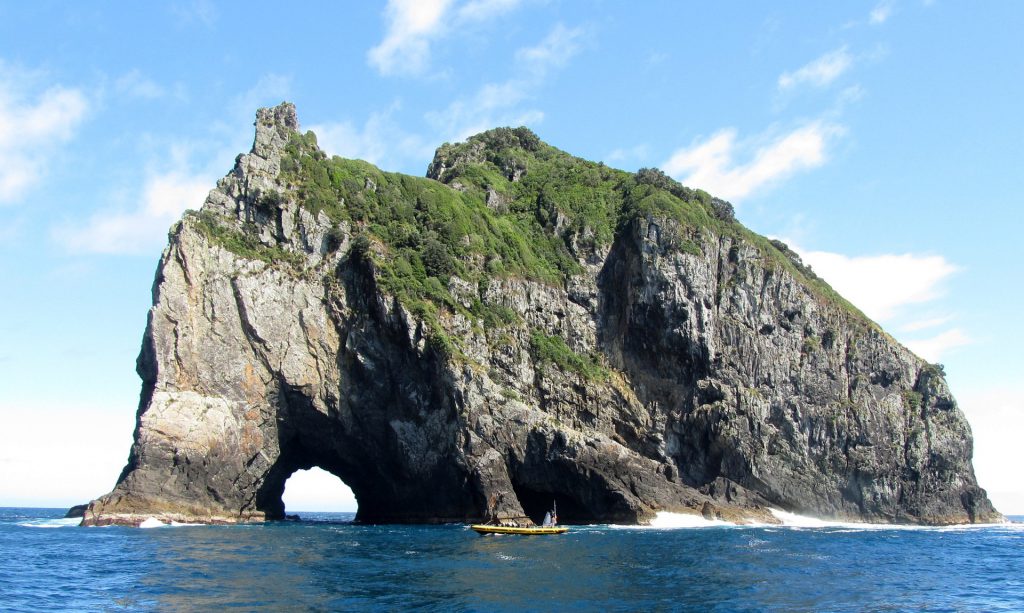 Our next port of call is Paihia, just across the water from Russell. Paihia offers an exciting smorgasbord of adventurous activities, but if you do nothing else, pay a visit to the Waitangi Treaty Grounds. It's one of the most important places in the whole of New Zealand. We are told it is where the country began: a meeting of native Māori and European settlers to decide their shared future. Of course, the museum will tell you more, and the grounds boast beautiful views.
From Paihia, proceed to Kerikeri. There, you'll encounter New Zealand's oldest European house, Kemp House, built in 1822. It stands next to New Zealand's oldest stone building, which is now a souvenir shop, nestled by a river in the idyllic Kerikeri Basin. You can tour both buildings, as well as the beautiful English-style gardens around them. Just across the river lies Rewa's Village, a replica pre-European Māori fishing village. Kerikeri also has a pretty awesome waterfall, Rainbow Falls, and if you want to see New Zealand's iconic kiwi birds, visit Aroha Island.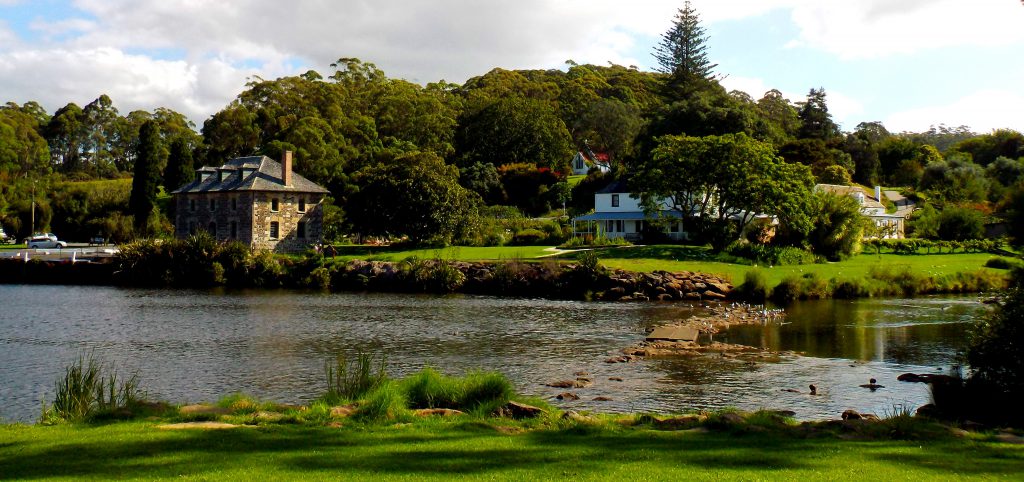 And now our grand tour takes us up to New Zealand's northernmost tip, Cape Reinga. Here, the Tasman Sea meets the Pacific Ocean, surveyed by a striking lighthouse. In a few months, you'll encounter New Zealand's southernmost tip, but now you must marvel at the fifty-five-mile-long beach that is… Ninety Mile Beach. Despite the farcical name, it's quite an epic place to visit. The sunsets are amazing and the sand dunes are incredibly fun to surf down. Technically, Ninety Mile Beach is a highway, but DON'T drive your campervan on it. Resist the temptation. Seriously, you'll get stuck and void your insurance.
With our week in Northland almost over, it's time to head back down to Auckland. We suggest driving down State Highway 12, as that takes you by New Zealand's largest kauri tree, Tane Mahuta, and – boy – is it worth seeing! It also takes you by Matakohe's Kauri Museum, which has fantastic displays detailing the lives of Northland's European pioneers.
WEEK THREE – AUCKLAND AGAIN
Well, we're back in Auckland! We doubt you got through everything listed above in the first week, but here are a few more places you can visit:
MOTAT: The Museum of Transport and Technology
Piha, a wild and dangerous, yet ruggedly beautiful black sand beach
Alberton, a wonderful Victorian mansion
The Otuataua Stonefields, one of the most important archaeological sites in the country with breathtaking harbour views, right next to Auckland Airport
As cities go, Auckland is incredibly diverse, which is why it's a great place for a holiday. It's nothing, however, compared with the rest of New Zealand. So, on we drive.

WEEK FOUR – THE COROMANDEL
The Coromandel Peninsula is a two-hour drive south then east from Auckland. It's home to possibly the most stunning beach in New Zealand, Cathedral Cove, as well as a whole array of beautiful bush walks. It has plenty of opportunities for water sports and plenty for relaxing. The Lost Spring, a luxurious spa complex of naturally heated pools in Whitianga, comes very well recommended. Other places around Whitianga worth going to include Mercury Bay Museum and Cooks Beach.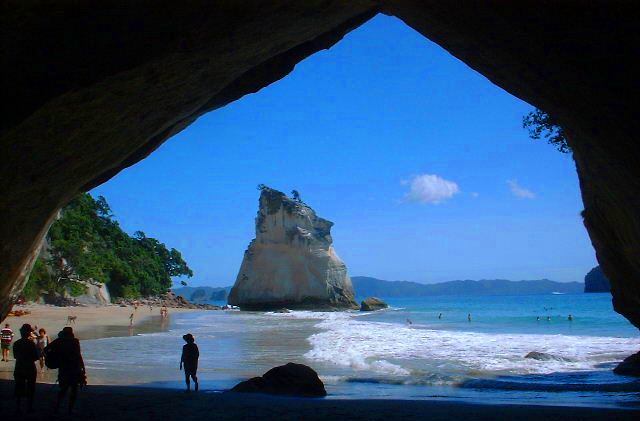 Cathedral Cove isn't far away from Whitianga. Be warned that you can only get to it via a bush walk or by sea, but you don't let that put you off. It's magnificent, with dramatic rock formations rising from crystal-blue water and, of course, a cave like a natural cathedral. Go kayaking around it if you can. It's a marine reserve, so you'll see plenty of wildlife too. You can hire kayaks from the nearby Hahei, or just book yourself onto a boat tour.
South of Cathedral Cove and Hahei lies another Coromandel beach you have to visit: Hot Water Beach. Take a spade and you can dig your own spa pool in the sand. Sometimes, the water gets hot enough to cook with! Be warned, though – this beach is very popular. You might not find it as relaxing as anticipated, in which case you could wind down at the Mercury Bay Estate, a vineyard with a fabulous sea view.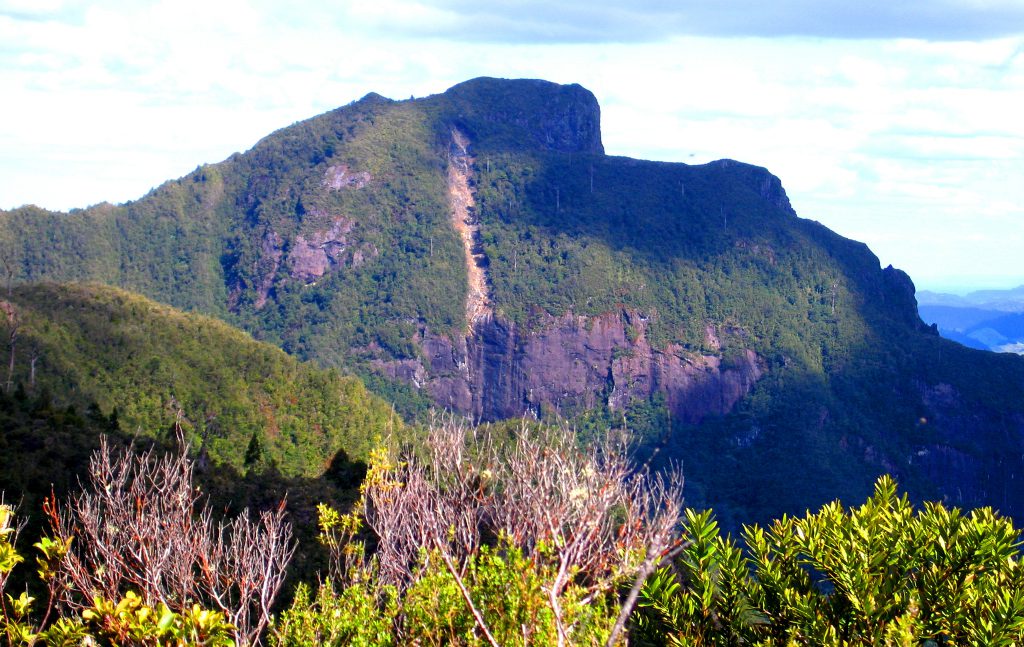 The Coromandel Peninsula has gardens, museums, markets and galleries, but where it shines is its nature. A popular nature walk is the Pinnacles, in the Coromandel Forest Park. The views are amazing, but a lot of climbing is involved, so you must be fit. If you're after a less strenuous walk, try one of the Broken Hills walking tracks. It's an area of bush full of old, abandoned mines that look really cool. There's even an old jail cell cut into the rock on the Gem of Boom Creek Walk – it's quite creepy!
Another historic mining site we recommend visiting is Karangahake Gorge. You can do this at the end of your week in the Coromandel, on your way to Tauranga. Karangahake Gorge is a breathtaking piece of nature: a mighty river snakes its way between towering walls of rock. There are many different walks you can do – short, long, tough, easy – along the river or through old tunnels. It is one of the best places to go walking in the entire country, so dedicate a day to it, and treat yourself to a meal at the Waikino Station Café.
WEEK FIVE – TAURANGA & WHAKATANE
Tauranga is a peaceful seaside city in the sunny Bay of Plenty. The first thing you should do upon arriving is head to the Strand, a whole street of wonderful bars and restaurants right on the harbourfront. A walk along the harbourfront is always pleasant, with sculptures, fountains and a rather exciting playground. You'll love the Hairy Maclary statue collection – everyone does! (The author of the Hairy Maclary books, Lynley Dodd, is a local.) At the end of the Strand, you'll find a waka, or Māori canoe, on display, the remains of an old fort, and a lovely park that looks out over the sea.

Tauranga has an abundance of places to park a campervan for free overnight. Two of the nicest are Fergusson Park, a great place to watch the sun go down, and Memorial Park, which has a wicked playground with a miniature train ride winding through it, as well as a crazy golf course and a swimming pool. It's also right by the sea.
Of course, Tauranga's main attraction is Mount Maunganui, which sits at the end of a peninsula, dominating the skyline. At its base, bracketed by a pair of beaches, is a holiday park and a complex of spa pools. (Patrons of the campsite get a discount at the pools.) The climb up Mount Maunganui, though relatively short, is quite tiring. The views from the top are worth it, but you can also take a gentler walk around the base of the Mount, or hire a kayak to view it from the water. Dolphin tours leave daily from the nearby marina, and there's no end of thrilling activities to try.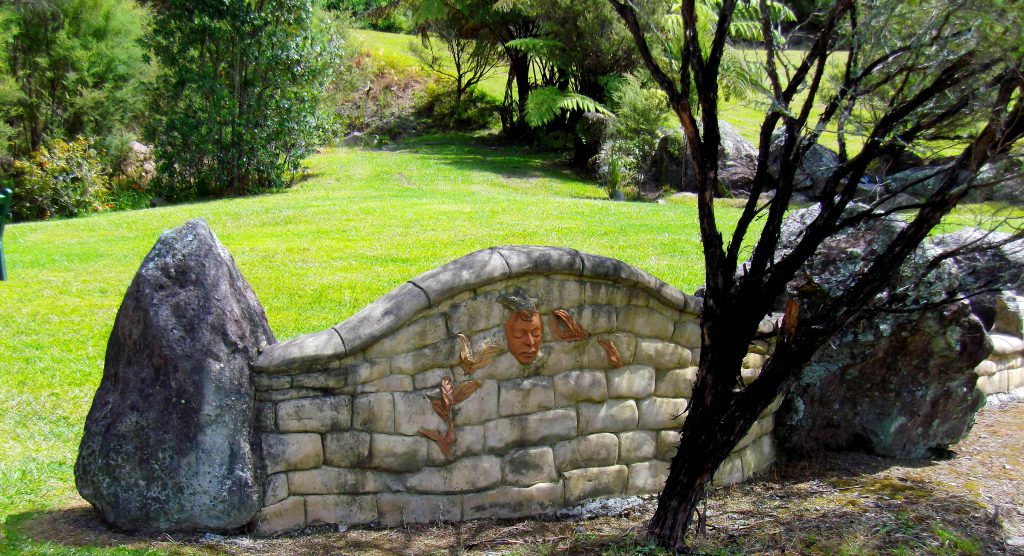 Great places to go just outside Tauranga include Te Puna Quarry Park and McLaren Falls. Te Puna Quarry Park is an old quarry that has been turned into an utterly magical garden with stellar views over the bay. It's full of quirky, tactile art (including a dragon!) and is sure to please both kids and adults. McLaren Falls Park is the site of an impressive lake and waterfall that just begs you to swim in it. The rocks at the top of the falls create lots of different pools you can relax in and, if you dare, you can jump into the river below. It only costs $5 per adult to camp at McLaren Falls, and you can take an evening kayak tour into the glowworm canyon!

When you've had your fill of Tauranga, head east to Whakatane, because there is something here that you absolutely must do: catch the ferry to White Island. White Island is New Zealand's most active volcano and it's completely beautiful. The experience of walking around it is out of this world – it feels like walking on the surface of another planet. There are steam vents, strange colours and a lake of acid, as well as the eerie shells of an old mining operation. In 1914, every miner on the island was killed when part of the crater collapsed – only their cat survived.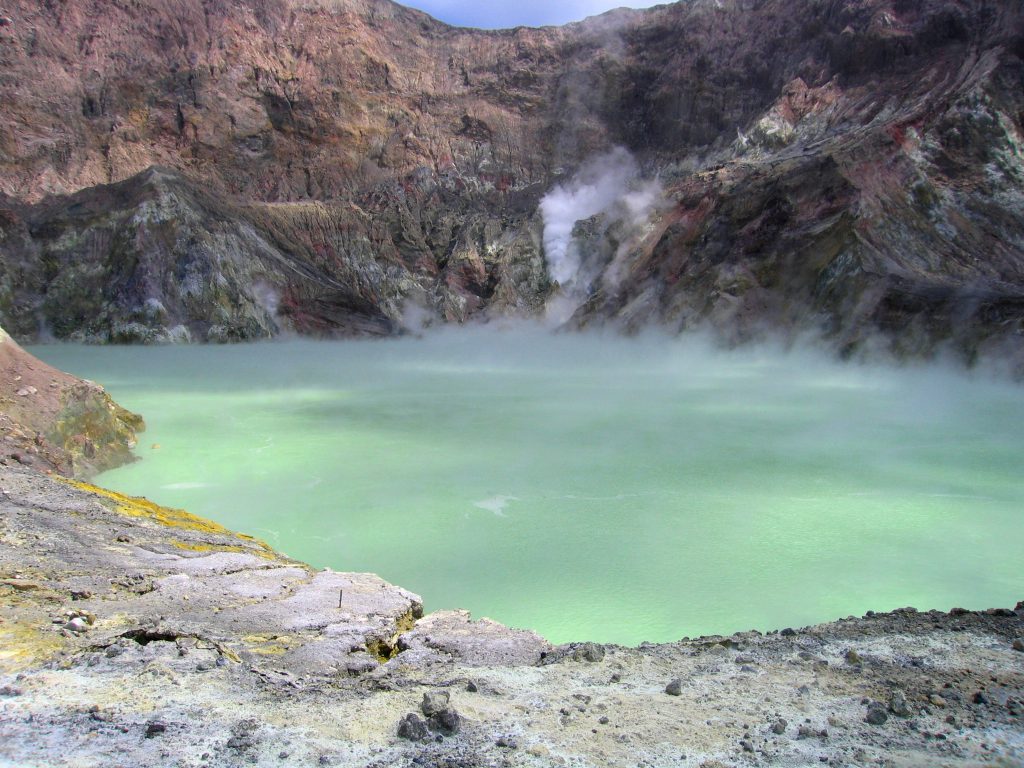 Other places to go around Whakatane include Ōhope Beach, the Whakatane Observatory and Muriwai's Cave. Why not spend a day tramping in the White Pine Bush Scenic Reserve, before relaxing your muscles at the Awakeri Hot Springs? (You can also camp there. It's $36 a night, but you can go in the pools as much as you want for free.)
WEEK SIX – GISBORNE & HAWKE'S BAY
The next place on our grand New Zealand itinerary is Gisborne, the country's easternmost region. Gisborne is great for horse trekking, bushwalking and wine sampling. You can feed stingrays, get up close and personal with sharks (from within an underwater cage) and catch a ride on a rather impressive vintage steam train. East Cape Lighthouse is worth a visit, as is the Eastwoodhill Arboretum, but perhaps the best place to go in Gisborne is Rere Falls. Yes, it's a pretty waterfall, but New Zealand has more pretty waterfalls than you can count. What makes Rere Falls stand out is the nearby rockslide – take a bodyboard with you and have fun!
After three or four days in Gisborne, head down to the city of Napier in Hawke's Bay. If you like Art Deco, you'll love Napier. Stroll down Marine Parade and take in all the grand 1930s buildings – you can even take a tour in a vintage car. If the kids find this boring, you can reward them with a visit to Splash Planet, one of New Zealand's best adventure swimming pool complexes. There are yet more wineries and bushwalks in Hawke's Bay – make sure you do at least one walk in Te Urewera National Park. The walks around Lake Waikaremoana are beautiful. You should also pay a visit to
Taumatawhakatangihangakoauauotamateaturipukakapikimaungahoronukupokaiwhenuakitanatahu
– if only because it has the distinction of being the longest place name in the world. It's just a hill in the middle of nowhere, though. If you've got time before driving northwest to Taupo, you could drive a little bit southwest to the Scandinavian-settled towns of Dannevirke and Norsewood. Dannevirke, naturally, has a bit of a Viking theme going on. If you have children with you, or if you're a fantasy nerd, we recommend going to the Fantasy Cave. Norsewood is home to the southern hemisphere's only stavkirke (stave church) – you'll find it at Johanna's World, which also has an old Norse log cottage and Troll Caves!
WEEK SEVEN – TAUPO & ROTORUA
The Napier-Taupo Road, or State Highway 5, takes us to the next destination on our grand New Zealand itinerary, Taupo. You know that massive lake in the middle of the North Island? That's Lake Taupo and, yes, it is beautiful. It's also a hotspot of volcanic activity, which you can learn about at the Volcanic Activity Centre – especially great for kids. (For more volcanic places to visit around Taupo, check out our volcanic tour of New Zealand.)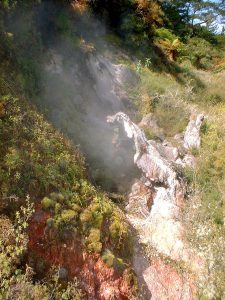 Other places to go around Taupo include the awe-inspiringly powerful Huka Falls and the Waipahihi Botanical Gardens. You must take a cruise, or kayak tour, to see the Māori rock carvings on the lake. You can also go jet boating, which is incredibly fun, but New Zealand's best jet boating opportunities are in the South Island. There are plenty of other water sports to try in Taupo, such as rafting, and no end of thrilling land-based activities, such as skydiving. You can also visit New Zealand's only prawn fishing park!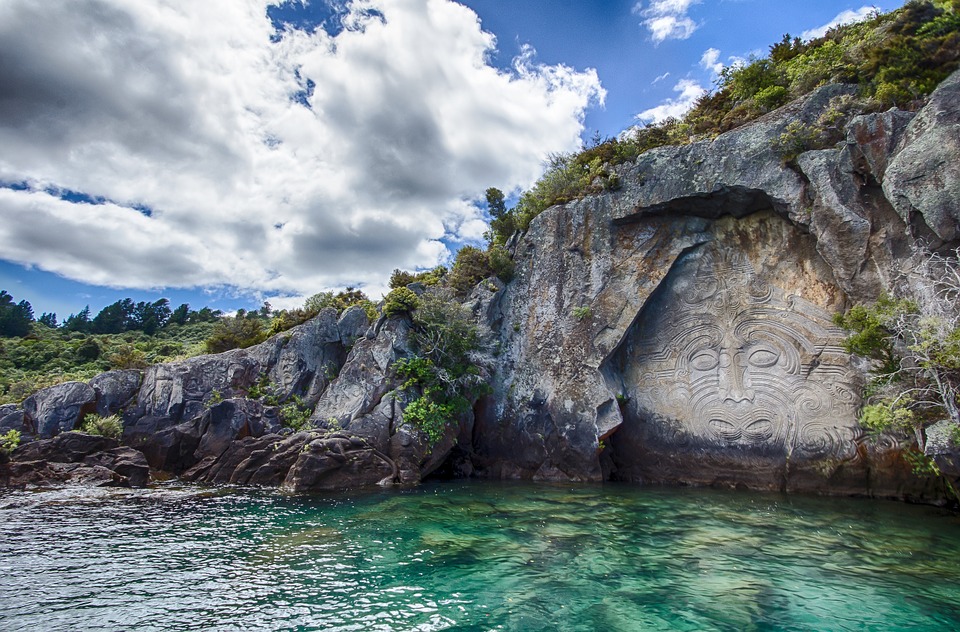 The views over Lake Taupo are breathtaking, and you can park your campervan right on its shore. You'll no doubt be drawn to the mountains across the water – we'll come to them later. For now, we must drive north to Rotorua. Oh, where to start with Rotorua? We recommend Kuirau Park. It's free-to-enter and has hot pools, mud pools and a wonderfully vaporous lake. The whole city smells like cooked eggs due to the sulphurous fumes of the geothermal activity. (Again, check out our volcanic places trip for some more fascinating places to go in Rotorua.)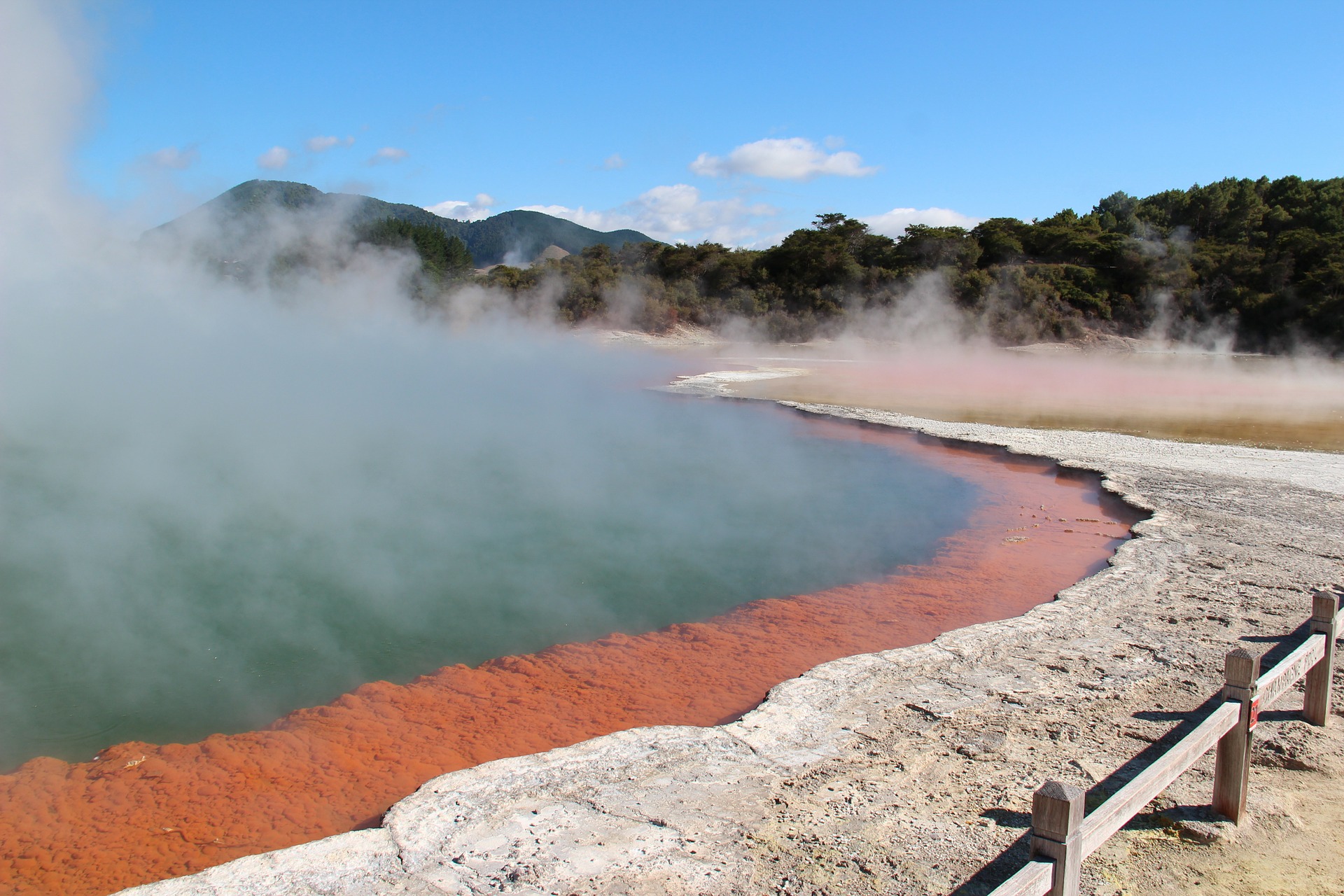 You must go to Government Gardens, on the shore of Lake Rotorua, and see the magnificent edifice that is the Rotorua Museum. It's next-door to another gorgeous building, an Art Deco spa called the Blue Baths. From Government Gardens, walk around the lake. Take in a Māori cultural show and go luging down Mount Ngonotaha! Also, check out this list of free things to do in Rotorua – we recommend a walk to Hamurana Springs and a visit to the Māori village of Ohinemutu. Even if you're not religious, the church there is worth seeing. It's quite different, with a window featuring Jesus wearing a Māori cloak, appearing to walk upon the surface of the lake.
WEEK EIGHT – HAMILTON & WAITOMO
From Rotorua, this itinerary takes you west towards Hamilton. On the way, you must visit the Hobbiton Movie Set – it's well worth the entry free, with beautifully tended gardens and a real pub. Once you get to Hamilton, head immediately for the Hamilton Gardens. They're officially amongst the best gardens in the world. If it happens to be raining, head for the Waikato Museum, or try a locally brewed Good George beer at one of the city's many bars. Hamilton Zoo is a good place to spend a day; you could also visit Memorial Park or the Taitua Arboretum, and, if you're a Rocky Horror fan, have a look at the Riff Raff statue on Victoria Street. (Incidentally, there's a really good second-hand bookshop near it called Browsers. If you're travelling in a campervan, you can afford to carry a few books!)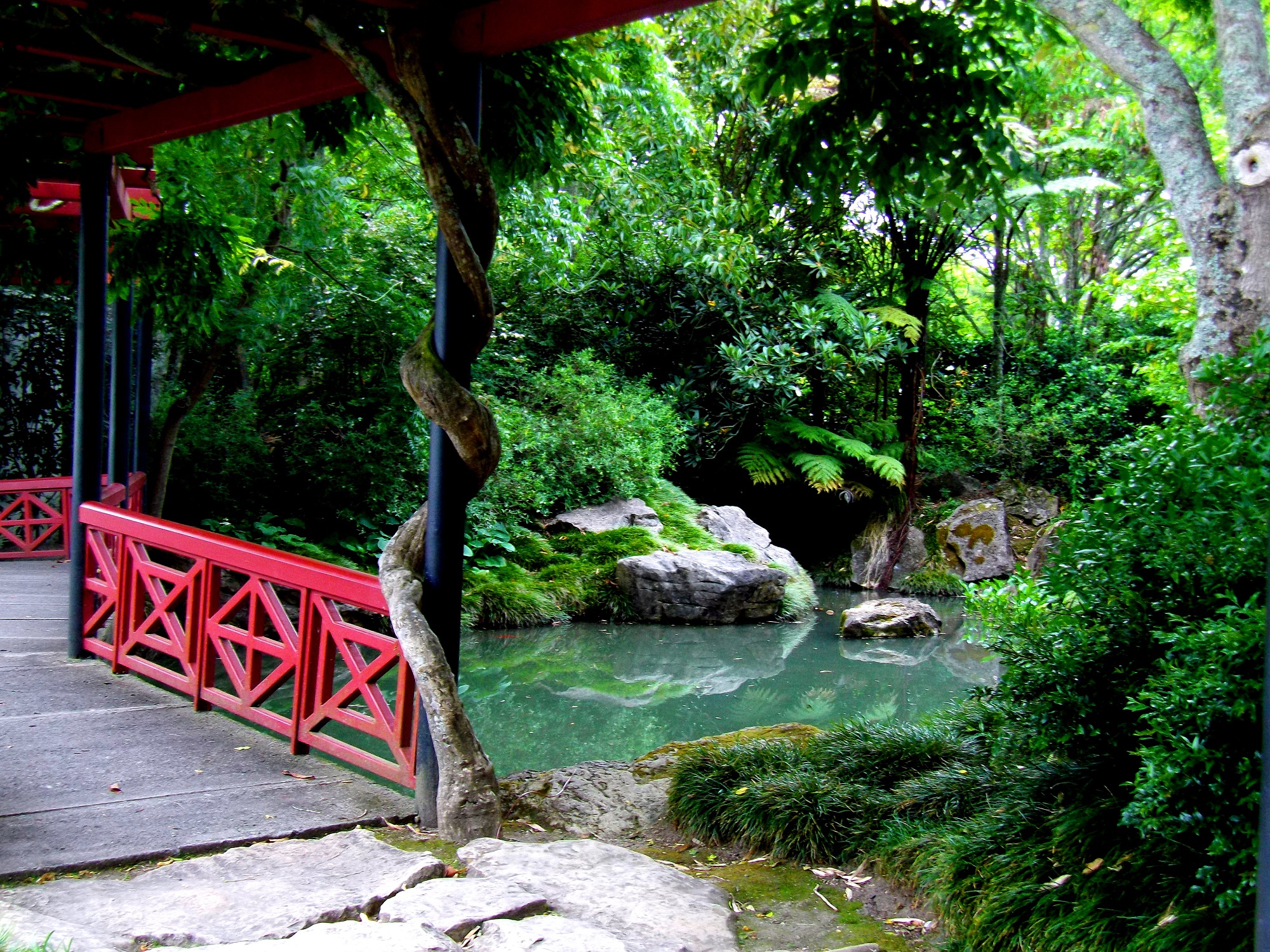 Another good day trip is Raglan, about forty-five minutes east of Hamilton. It's a famous surfing spot, and the town has a few art galleries and quirky shops. On the way there, make sure you visit Bridal Veil Falls, one of the most impressive waterfalls in New Zealand. There's not actually all that much to do in Hamilton, so now we must head south towards one of New Zealand's most popular tourist spots, Waitomo. (On the way down, it might be nice to stop in Te Awamutu, which has a lovely park, or Kihikihi, which has a colonial house and jail you can look around.)
Waitomo is famous for its spectacular network of caves. There are lots of different tours you can go on, but if you only do one, do the Spellbound Tour. It ends with a silent boat ride along an underground river surrounded by glowworms – it's like you're floating amongst the stars! There are a few more adventurous cave tour tours to do as well, which include abseiling and black water rafting, where you float on a rubber ring down an underground river and over a waterfall. And, as amazing as the underground scenery is, Waitomo has some pretty awesome surface scenery too. You can view it on the Waitomo Walkway, an easy yet highly interesting trek – it's also free.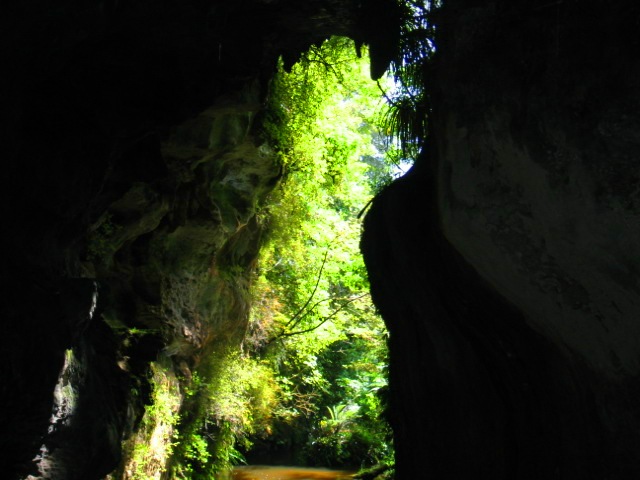 But now you must head south towards New Plymouth. As you drive along the coast, stop at the Three Sisters and the Elephant, fascinating rock formations carved out by the sea…
WEEK NINE – TARANAKI
One of the nicest things you can do when you arrive in New Plymouth, the major city of the Taranaki Region, is go for a stroll along the Coastal Walkway. It's especially pleasant on a sunny evening. The walkway skirts the fringe of the city centre, offering marvellous views over the Tasman Sea. If it's not cloudy, look back inland and you'll see the dramatic cone of Mount Taranaki, the volcano that dominates the region. As the sun sets, you'll be spoilt for choice of where to have dinner.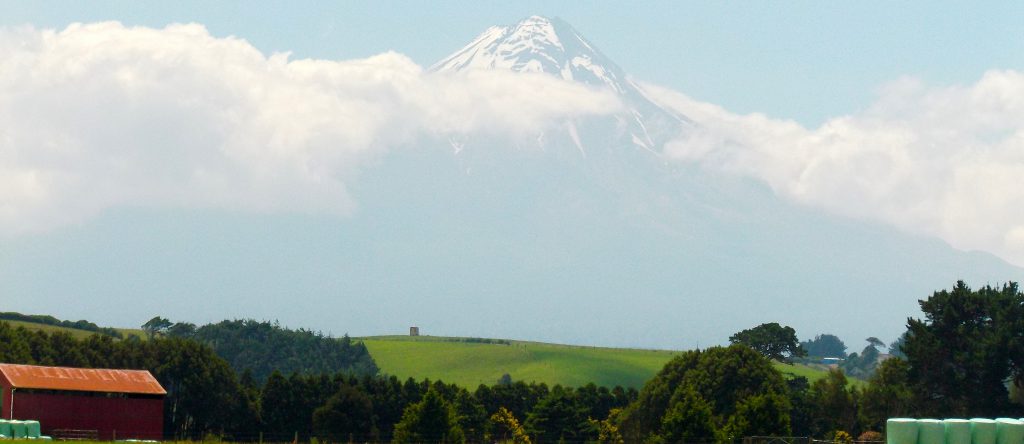 Despite being founded in 1841, New Plymouth still feels like a fledgling city. It's had quite a turbulent history, which you can learn more about at Puke Ariki, New Plymouth's new museum-cum-information centre-cum-library. Hidden in its shadow is the tiny, stone Richmond Cottage, a relic of the city's past that you should endeavour to visit. It looks quite strange, hemmed in by tall, modern buildings. You could also visit the Len Lye Centre, an art gallery housed in a weird but wonderful building, and the New Plymouth Clock Tower. It's a little different and definitely best seen at night!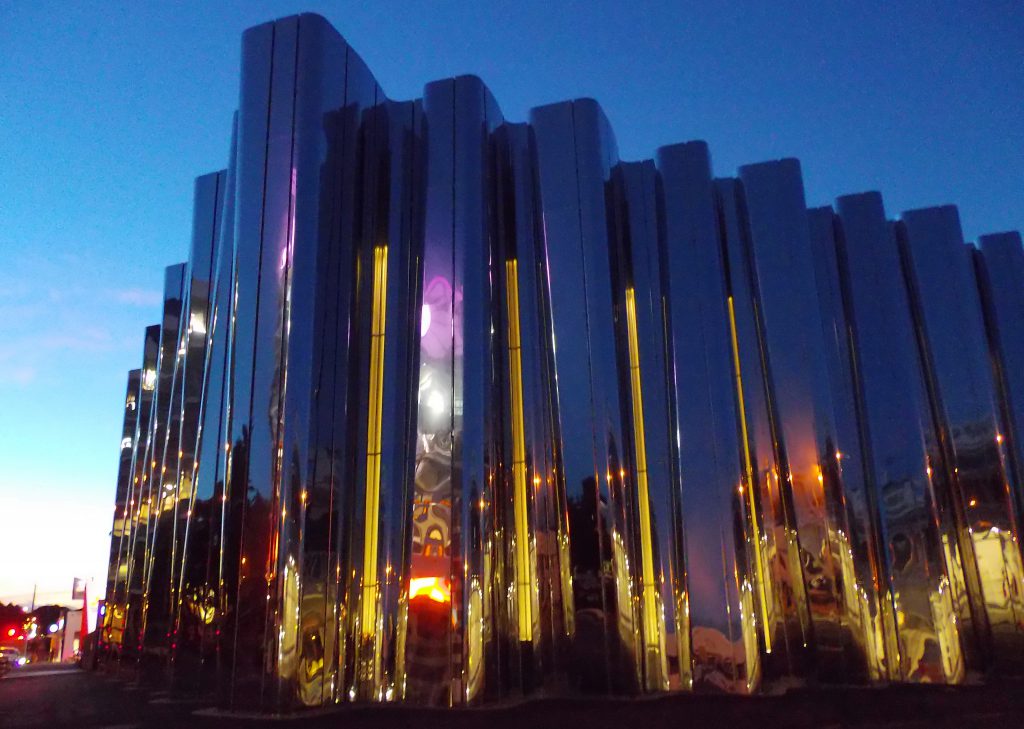 Perhaps the best place to go in New Plymouth is Pukekura Park. It's massive and magnificent, with a lake and a waterfall that gets beautifully lit up at night. Taranaki is all about gardens. Another gorgeous garden you should visit is Tupare, on the outskirts of the city. It's like the Secret Garden, traditionally English in style, sloping down to a picturesque river. It belongs to a gorgeous, old house, which you can tour – if you're interested in the Arts and Crafts movement, you'll love it! Nearby is another garden called Pukeiti, famed for its rhododendrons. There, you'll find some longer walks to go on.
Pukeiti extends into the foothills of Mount Taranaki, in Egmont National Park. There are lots of free places to park your campervan in the park, so make sure you take full advantage. Even if you're not inclined to climb Mount Taranaki, which you have to be an experienced mountaineer to do, there are plenty of walks to do around its base, all of them beautiful. The forest around the mountain is called the Goblin Forest, because it seems to be straight out of a fairy tale. Some of the walks even lead to swimming holes.
An hour south of New Plymouth, just outside Hawera, is one of the best museums in the country, Tawhiti. It's not like other museums. It was created by an art teacher who makes life-sized dioramas using plaster casts of local people. The history it conveys – the history of Taranaki – is fascinating and personal in a way that other museums aren't. And there's a cool boat ride through an old Māori village, showcasing their first meeting with European traders. After a day at Tawhiti, spend the night in Stratford, a town in which every street is named after a Shakespeare character. It even has a Tudor clock tower with a Romeo and Juliet glockenspiel!
From Stratford, you can embark upon the Forgotten World Highway. This will take us to our next destination, Tongariro, by a very scenic route. Campervans must be especially careful on the Forgotten World Highway. Some rental companies won't even allow you to drive on it, so make sure you rent from a campervan company that lets you drive on unsealed roads. It's a wonderful drive. It takes three hours to reach the other end if you don't stop to see any of the sights, and there's no petrol station or supermarket on the way. There is a pub, though, halfway along in New Zealand's own insane, little republic, Whangamomona.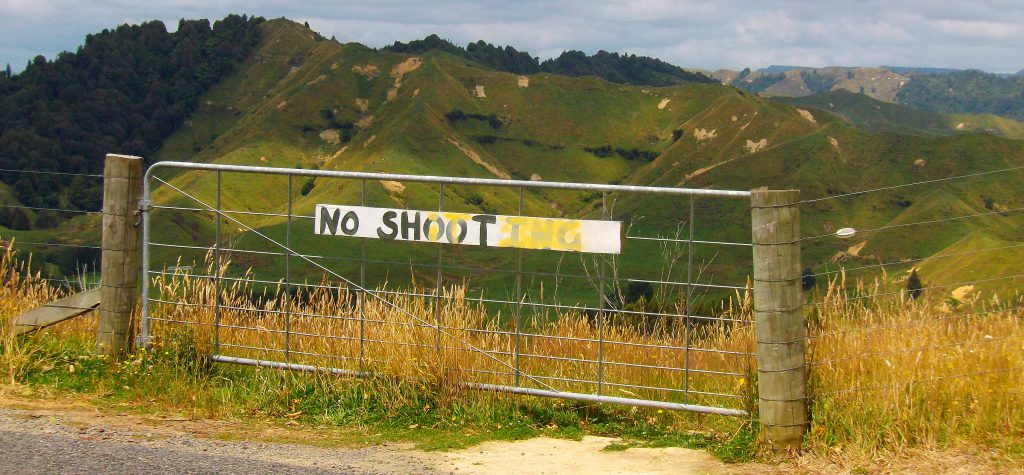 There are a few places to camp along the Forgotten World Highway, but all of them need to be booked in advance. We recommend spending a night at one of them – or at the pub in Whangamomona – so you can take the time to explore the highway's hidden delights, including one of the North Island's highest waterfalls and the aptly named Bridge to Somewhere. When you reach the end of the Forgotten World Highway, the small town of Taumarunui, fill up your fuel tank and head to Tongariro National Park. Remember those mountains you saw across Lake Taupo? It's time to visit them.
WEEK TEN – TONGARIRO NATIONAL PARK
You don't have to be a mountaineer to enjoy the devastatingly beautiful Tongariro National Park. There are plenty of easy walks to try, with various views of the volcanoes Tongariro, Ruapehu and Ngauruhoe, and endless adventurous activities, including skiing in the winter. Many people who visit the park want to do the Tongariro Crossing, a six-to-nine-hour walk that takes in some amazing sights, including the Red Crater, Soda Springs and the Blue and Emerald lakes. Tongariro, of course, was where many of The Lord of the Rings' Mordor scenes were shot.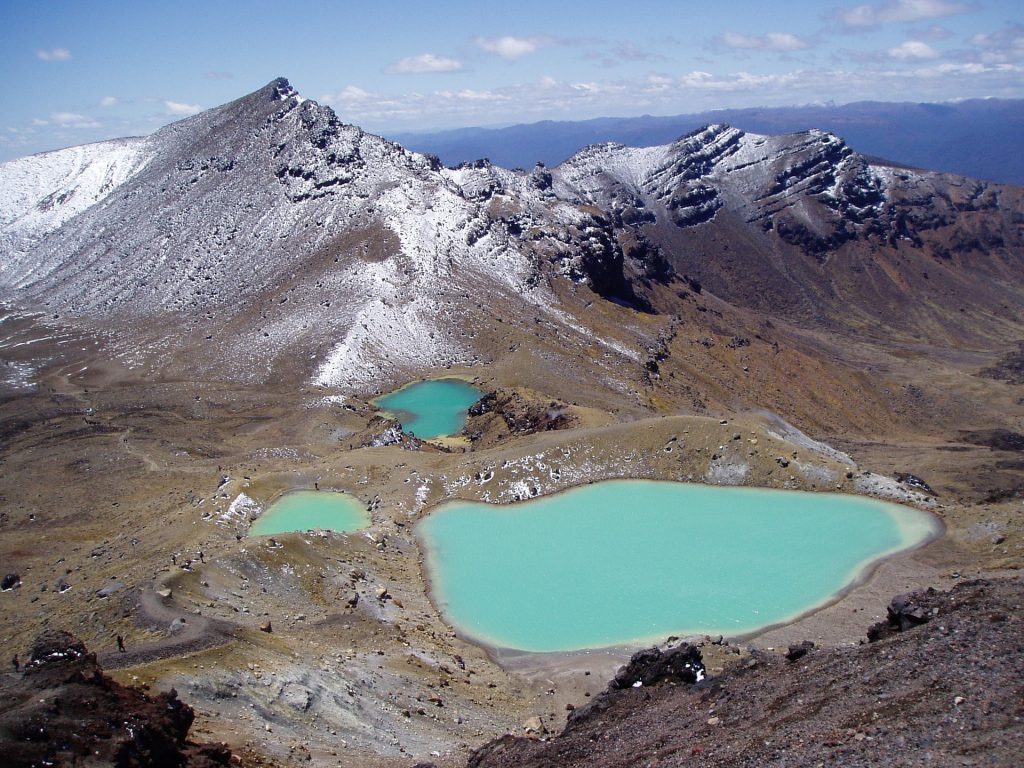 Be prepared with warm clothes when you're exploring Tongariro. It can get frosty even in summer. If you fancy escaping the outdoors, you could enjoy High Tea at the Chateau, a gorgeous 1930s hotel in Whakapapa Village, nestled at the foot of Mount Ngauruhoe. Or why not travel even further back in time to the Old West? For $120, you can spend a day pretending to be a cowboy at Mellonsfolly Ranch! You can also explore the nearby Whanganui National Park and visit the National Army Museum.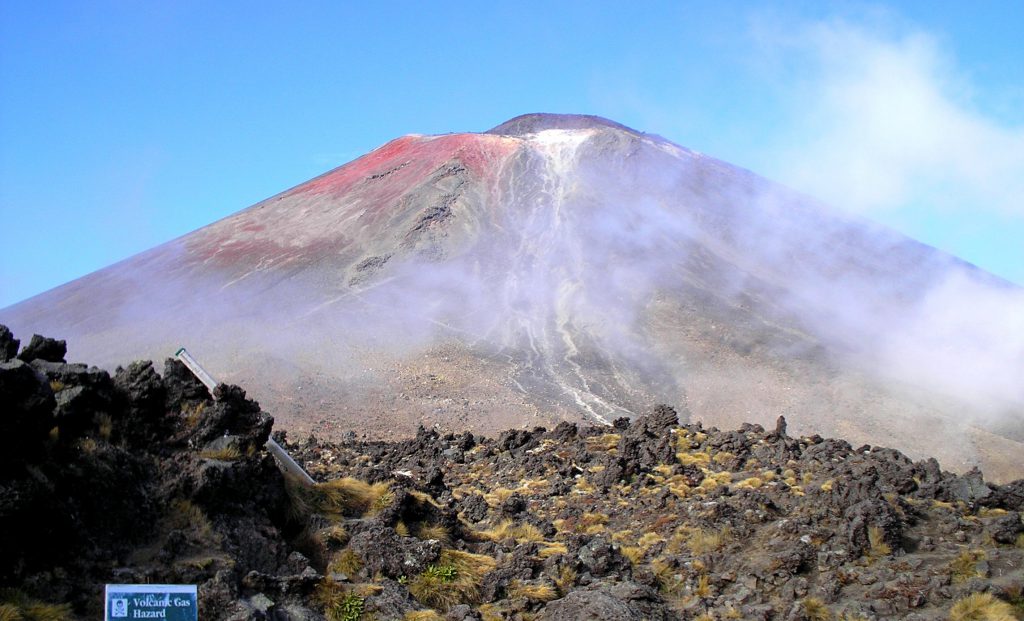 WEEKS ELEVEN & TWELVE – WELLINGTON
From Tongariro, it's around a four-hour drive down to Wellington. We suggest driving down State Highway 1, as that will take you through the somewhat quirky town of Bulls. If you like puns… well… look out for the various signs. The police station is CONST-A-BULL, the toilets are RELIEV-A-BULL, the church is FORGIVE-A-BULL… you get the idea. See if you can find them all! When you get to Wellington, you might be lucky enough to find a free overnight campervan parking spot at Evans Bay Marina. There aren't that many campgrounds around New Zealand's capital city, so do your research before you arrive.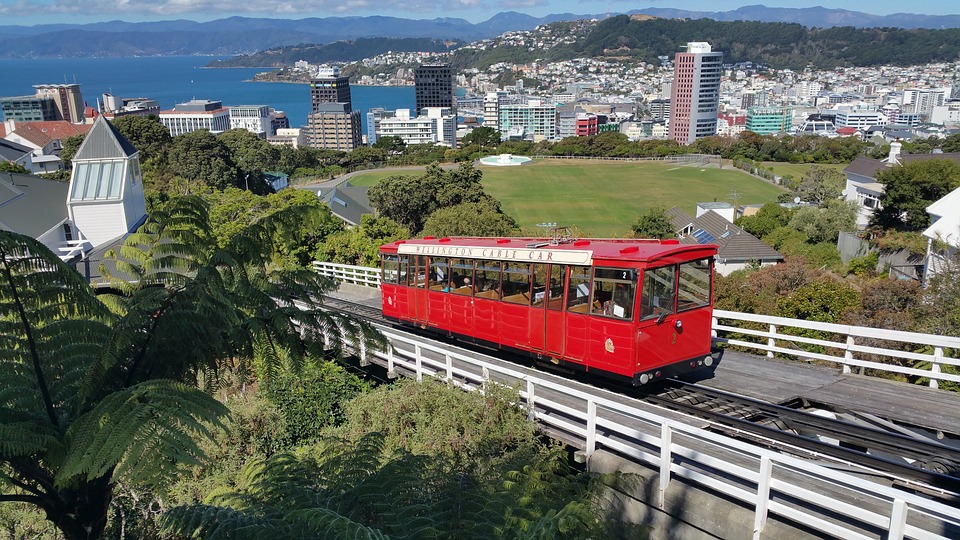 We suggest two weeks in and around Wellington. Here's a list of some of the best things you can do:
Walk along the Wellington Waterfront, visit the Underground Market and go for a kayak in the harbour
Marvel at the fantastic creations of Weta Workshop, the special effects team behind The Lord of the Rings
Take in the view from the top of Mount Victoria (and see if you can find where the hobbits hid from the Black Rider before being chased to the ferry)
Visit Te Papa, New Zealand's national museum – it's excellent
Tour the Beehive, the Executive Wing of the New Zealand Parliament Buildings
Check out the quirky shops of Cuba Street
Spend a day at Wellington Zoo
Observe native wildlife at the Zealandia sanctuary
Visit the birthplace of Katherine Mansfield, one of New Zealand's most famous and eccentric writers
Tour Government House, the Governor-General's house – it's pretty much the poshest building in the whole country
Stroll around the Botanic Gardens and the Bolton Street Cemetery
Have a picnic with the fur seals at Red Rocks Reserve
Have mooch around Old St. Paul's Cathedral, notable for being made of wood
Ride in an old-fashioned cable car
Visit the Petone Settlers Museum
Drive to Cape Palliser to see New Zealand's oldest lighthouse and the amazing Putangirua Pinnacles, which you can see in The Lord of Rings when Aragorn, Legolas and Gimli leave the Rohirrim's camp to recruit the Army of the Dead – there's even a campsite nearby for only $8 per adult per night, but take your own water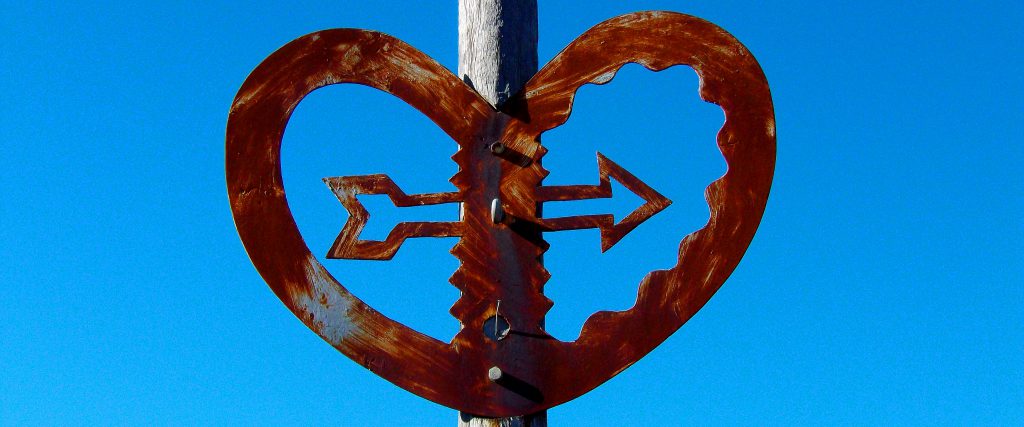 Wellington is absolutely packed with exciting restaurants. You won't want to leave it, but the time must come for you drive your campervan onto a ferry and cross Cook Strait. We've reached the halfway point of our grand tour of New Zealand. It's time to sail to the South Island.

WEEK THIRTEEN – MARLBOROUGH
The Marlborough Sounds are a patchwork of paradise at the top of New Zealand's South Island. Whether you're after a peaceful cruise, a playful kayak or a swim with dolphins, a local wine, a stunning bushwalk or a taste of history, Marlborough will satisfy your every desire. Step aboard the Edwin Fox, a preserved ship from the 1800s, which once carried convicts to Australia, immigrants to New Zealand and even Florence Nightingale! Visit the Omaka Aviation Heritage Centre, which houses Peter Jackson's collection of World War One planes, complete with displays crafted by Weta Workshop. If you can, stay at the Pelorus Bridge Campground. The Pelorus River is beautiful – it's where they filmed the barrel scene in the second Hobbit film. You can take a kayak tour along it, or simply jump in at your leisure.

WEEK FOURTEEN – THE TASMAN DISTRICT
Next, we travel west to Nelson and the Abel Tasman National Park. Nelson's certainly not short of beautiful gardens. You mustn't miss Founder's Heritage Park, and there are a few museums and historic houses around. Feast your eyes upon the striking Split Apple Rock, go kayaking in the as-good-as-it-sounds Golden Bay, walk to the gorgeous Te Waikoropupu Springs, or embark upon one of New Zealand's Great Walks, a three-to-five-day trek through the Abel Tasman National Park. You can swim with seals, trek with horses, or take a tour to see a magical, perpetually burning flame in a forest in Murchison – seriously. Nelson Lakes National Park is worth a visit too, as is the Moria Gate Arch in Kahurangi National Park. There are lots of free campgrounds around the Tasman District, but make sure you have your insect repellent ready if you take advantage of them!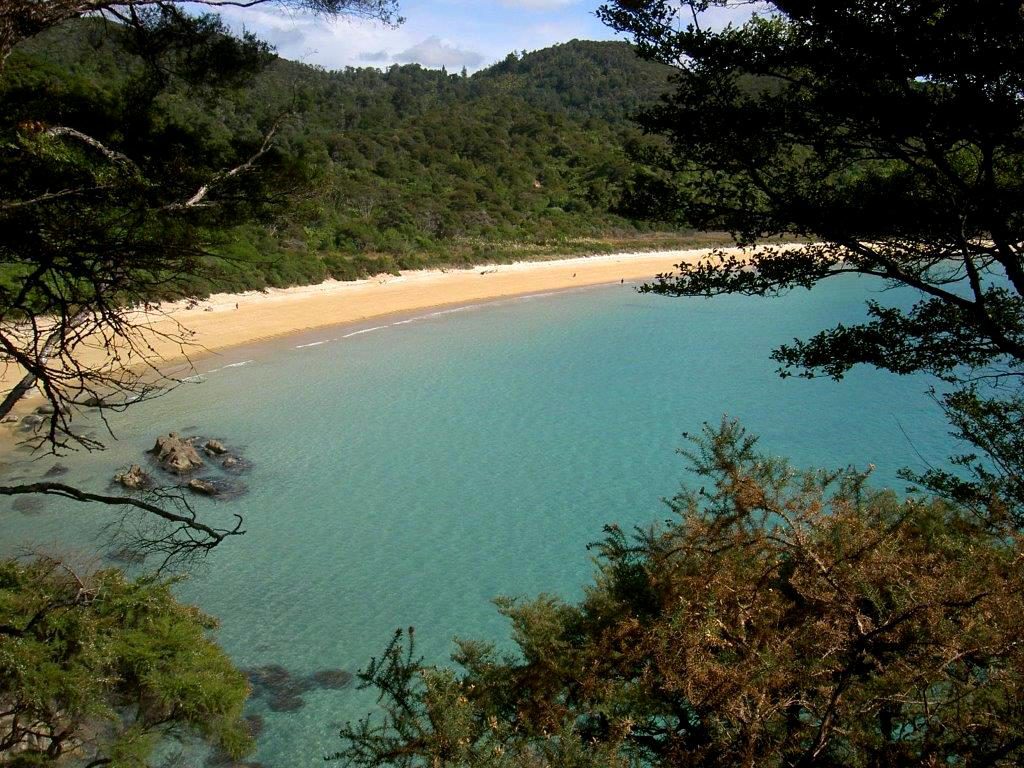 WEEK FIFTEEN – THE WEST COAST
Directly south of the Tasman District lies one of New Zealand's most spectacular regions. The West Coast is known for its mining history, amazing geology and two of the world's most accessible glaciers. Your first port of called should be Westport. From here, you can discover the old mining treasures of the Denniston walking tracks and observe a seal colony at Cape Foulwind. The next day, continue south to Charleston and try your hand at Underworld Rafting – that's floating through the Nile River Cave System, which has more glowworms for you to enjoy.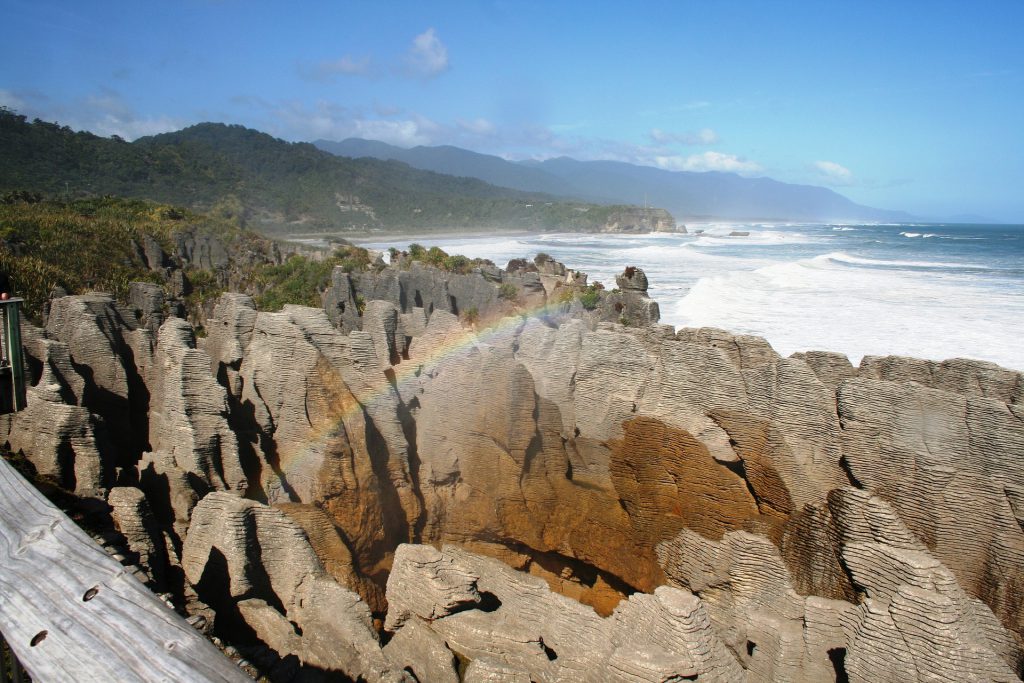 As you drive down State Highway 6 on your way to Greymouth, don't forget to stop for the world-famous Pancake Rocks at Punakaiki. Then, when you reach Greymouth, we recommend visiting Shantytown, a recreated gold-rush settlement. You can explore the buildings, take a ride on a steam train and even pan for gold! From Greymouth, we move on to Hokitika, and a place where you can walk amongst the treetops. You must also spend some time walking around Hokitika Gorge, with its breathtakingly turquoise water.
Of course, the Fox and Franz Josef glaciers are the main reason to visit the West Coast. You can take an easy walk directly to the foot of both for free – no mountain climbing involved! You can also walk upon their surfaces, with guided tours, or take a scenic flight over them. Skydiving in this area is something else. Afterwards, you can relax in the Franz Josef Glacier Hot Pools.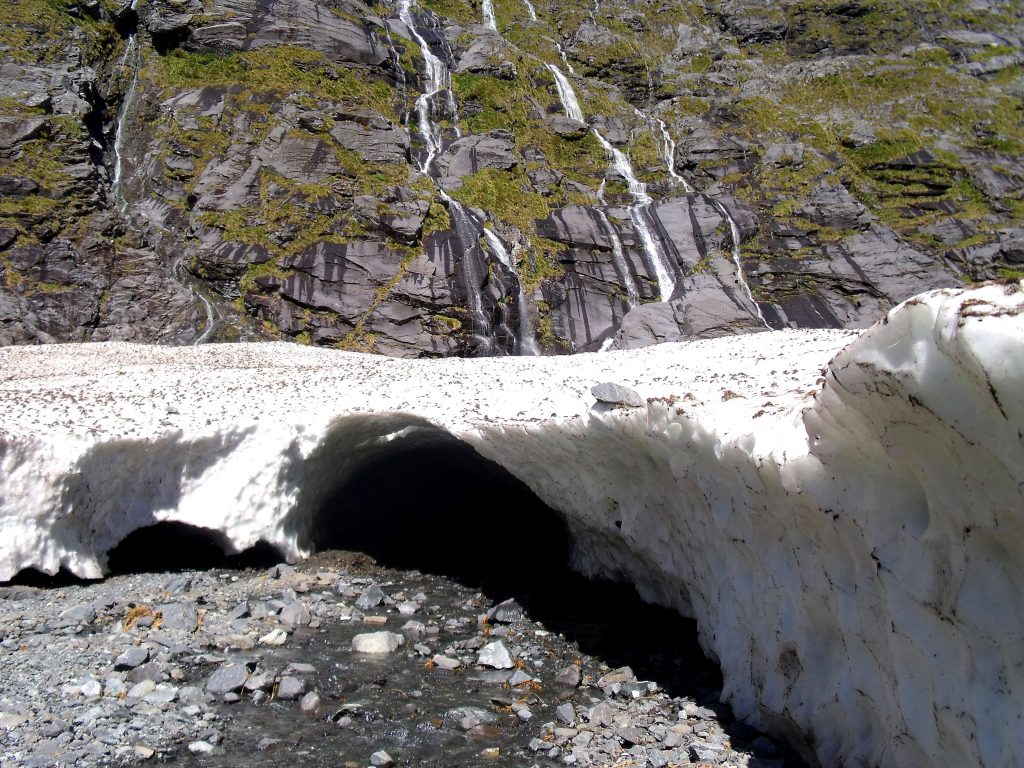 Before you leave the West Coast, take the opportunity to learn more about kiwis at the West Coast Wildlife Centre – they actually hatch kiwi chicks there! Also, do some walking in Mount Aspiring National Park. It contains some of the most awe-inspiring scenery you will ever see. Then, on your way to our next destination, Wanaka, pull over and admire the Gates of Haast. Watching the ice-blue water frothing around the silver-grey rocks is mesmerising.
WEEK SIXTEEN – WANAKA
Wanaka is an exciting resort town on the edge of one of the most beautiful lakes in New Zealand. Lake Wanaka is ringed with snow-capped mountains and, in spring and summer, colourful carpets of blossoming lupins. There, you can experience a whole world of adventure: you can climb up the side of a waterfall, mountain bike amidst glorious scenery, jet boat through the Matukituki Valley, or take a thrilling tour through a mystical canyon. Wanaka is ripe with nice shops and cafes. You can enjoy a lavender ice-cream at Wanaka Lavender Farm, or a delicious wine at Rippon – you won't find a vineyard with a more breathtaking view! We recommend taking a walk up Roy's Peak Track for a stunning lookout and, of course, don't leave Wanaka without swimming in the lake – it's an unforgettable experience.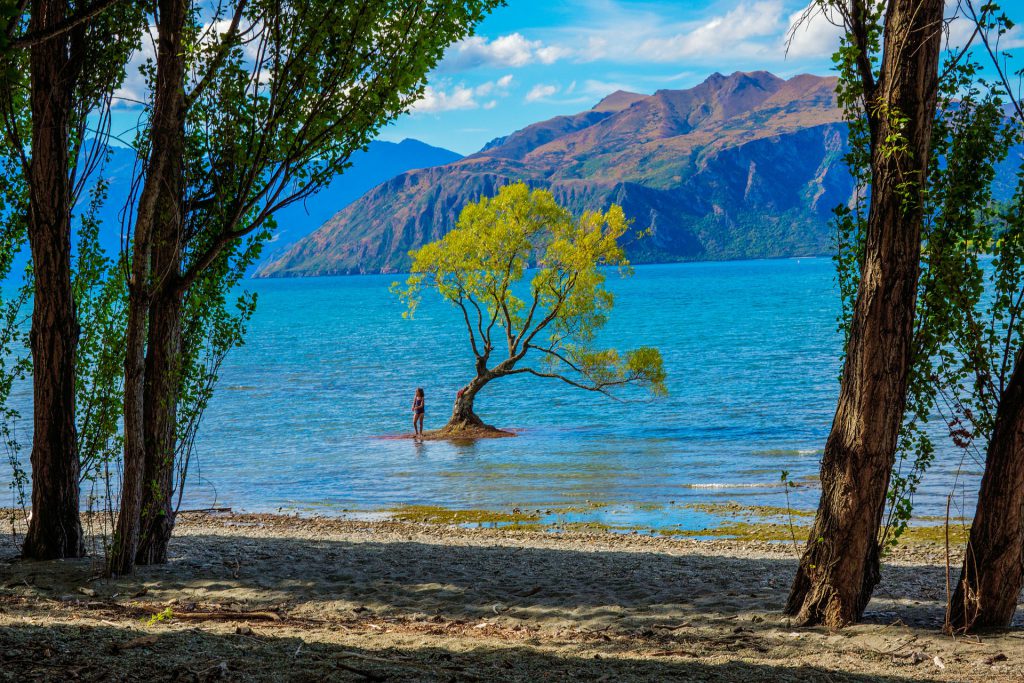 WEEK SEVENTEEN & EIGHTEEN – QUEENSTOWN
And now we come to New Zealand's most famous tourist destination, and hour's drive southwest of Wanaka. This itinerary allows for a generous two weeks in and around Queenstown. Bear in mind it's an expensive destination, but there are plenty of free things to do. Queenstown's main attraction is, after all, its mind-blowingly magical scenery. The first thing you should do upon arriving is explore the lakeside town itself, with its range of attractive shops and restaurants, and backdrop of snowy mountains. Other free activities you can indulge in are visiting the Queenstown Gardens, climbing to the top of Queenstown Hill, and walking around Lake Wakatipu. At the edge of the lake is an underwater viewing platform, from which you can observe certain fish and diving ducks in a feeding frenzy. You can also take a cruise on the lake, or even, if you dare, swim in it.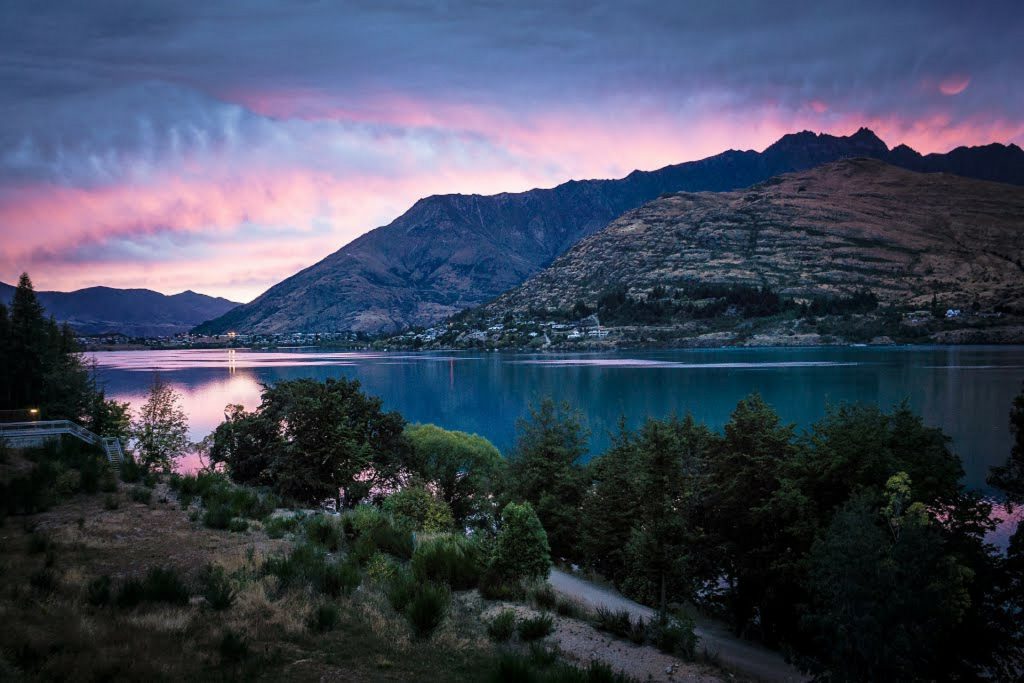 One absolute must-do when you're in this area is drive up to Paradise, Glenorchy. It's called Paradise for a reason. The sheer beauty of the scenery is enough to make you weep, which is why it was used in The Lord of the Rings. There are a lot of stunning hikes to choose from, but we recommend going on a horse trek – Dart Stables' Ride of the Rings tour is truly amazing. Another place you must see is Skippers Canyon. Skippers Canyon Road, however, is the most dangerous in the country and you're not allowed to drive rental campervans on it. You're best off paying for a tour, and we recommend Shotover Jet – it'll be the best jet boat ride of your life. Of course, every kind of thrill-seeking activity you could ask for is on offer in Queenstown. It's the birthplace of bungy jumping. Even if you don't fancy it yourself, it's fun to watch people bungy jumping at Kawarau Gorge.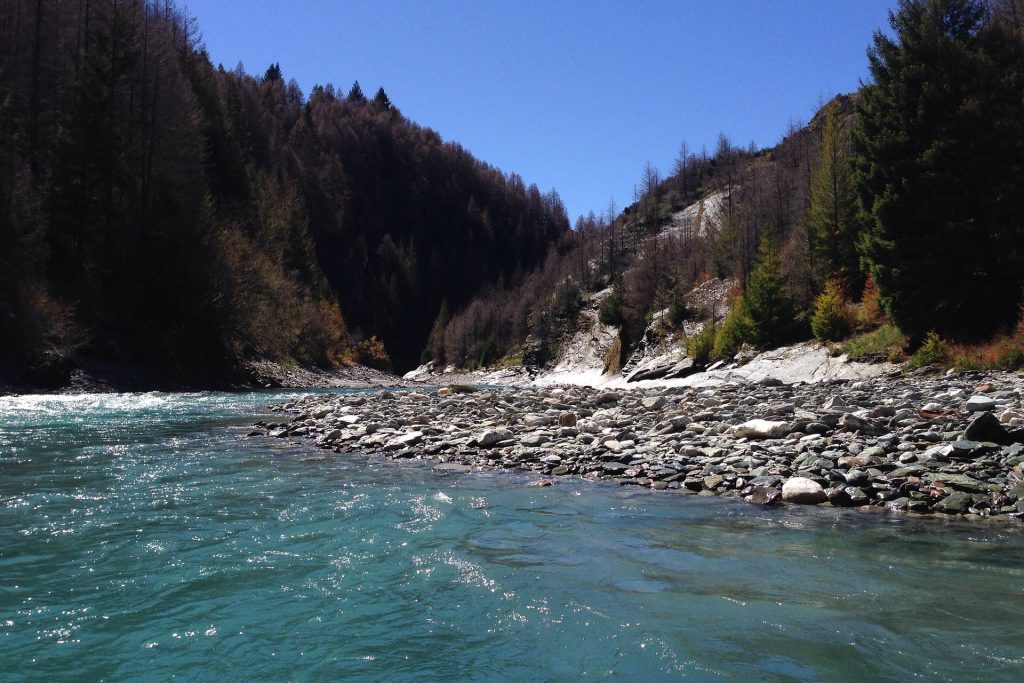 If you fancy a change of pace, you could visit Gibbston Valley's underground wine cave, go on one of the area's many bush walks, spend at night at Moke Lake, or practise your photography skills on the picturesque stone ruins in Thurlby Domain. If you like history, head for the nearby Arrowtown. As well as a cool museum, there's a recreated gold-rush-era Chinese settlement, and Arrowtown itself is a delight to explore. There are old-fashioned shops and lovely restaurants, and you can try panning for gold in the Arrow River. It's a very pretty river and, as an added bonus for Lord of the Rings fans, you can easily find where they filmed the bit with Arwen carrying Frodo across the Ford of Bruinen. It might now be tempting to buy a house in this general area and immediately retire, but, alas, it's time to move on.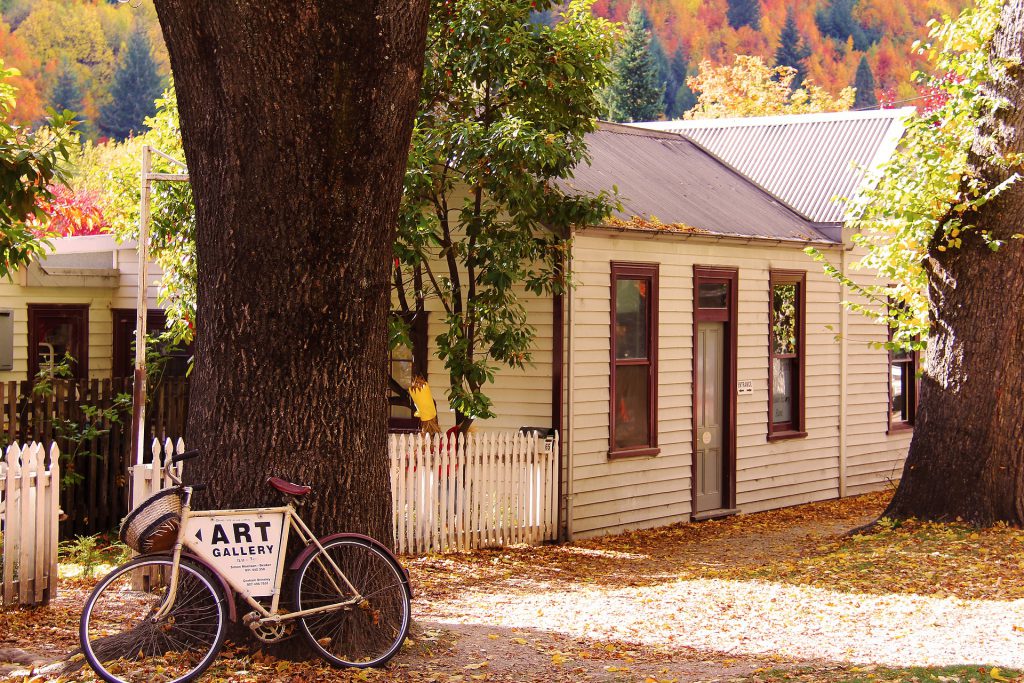 WEEK NINETEEN – SOUTHLAND
Two hours southeast of Queenstown lies Te Anau, a settlement on the edge of the glacier-carved Fiordland National Park. From here, you can visit the so-called Eighth Wonder of the World, Milford Sound. It's another two-hour drive from Te Anau – it might be worth staying the night at Milford Sound's only campground, but you'll definitely have to book ahead. On the way there or back, take a couple of short detours, one to see Lake Marian Falls, the other to embark upon the short but mightily impressive Chasm Walk. Of course, there are other – longer – walks in Fiordland National Park, including the famous Kepler Track. You could also visit Doubtful Sound, slightly less popular than Milford Sound and also extremely beautiful.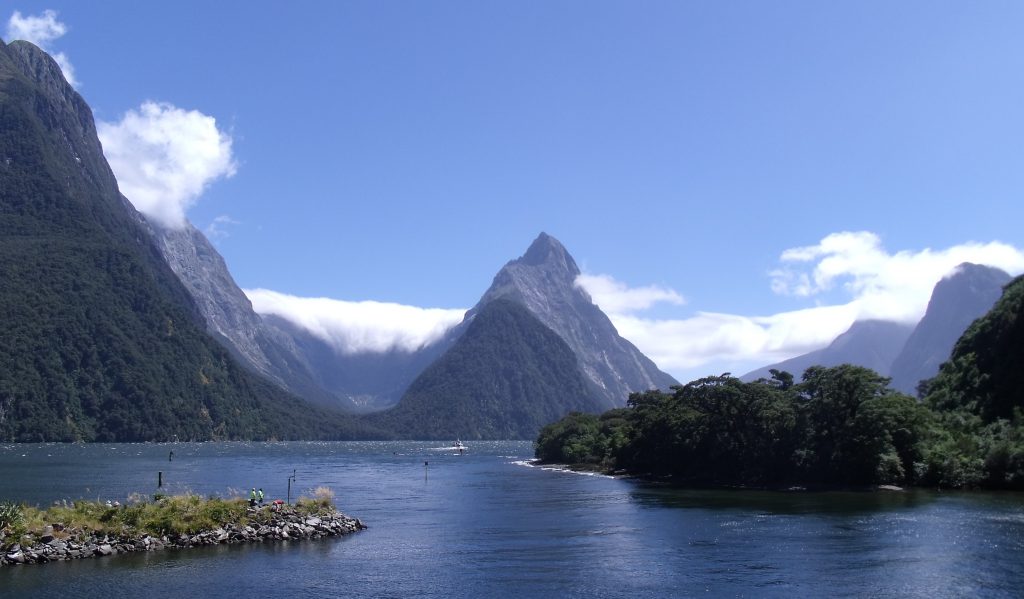 From Te Anau, it's another two-drive to Invercargill, approximately southeast. If you fancy a break here, you could visit Otepuni Gardens, or the quirky Demolition World, which is definitely not what it sounds like. It's like a private museum of salvaged items… like somewhere Shadow might have visited in American Gods… It's a little creepy, but quite wonderful. From Invercargill, you can catch a flight to Stewart Island, but we recommend driving south to Bluff and catching the ferry. Stewart Island is New Zealand's southernmost point, and it's the best place in the world to observe kiwi in the wild. It's also a prime spot for viewing the Southern Lights. Wrap up warm and go on some bush walks – this is probably the closest you'll ever be to Antarctica!
Once reunited with your campervan, drive east for an hour until you come to Porpoise Bay. If you want to see dolphins playing close to shore, this is the place. You can even get in with them, though it's very cold! Other interesting places to visit before heading up to Dunedin are Jacks Blowhole and Surat Bay, which is the haunt of a group of surprisingly placid sea lions.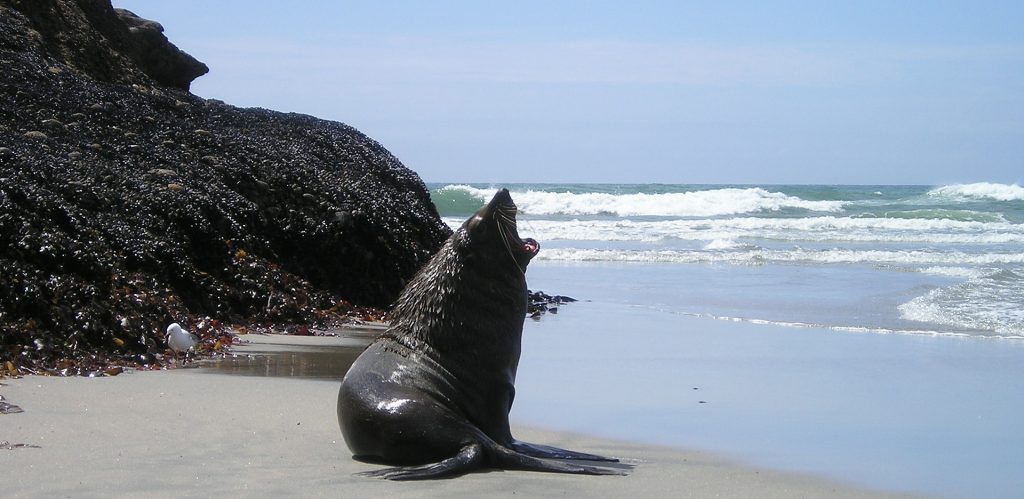 WEEK TWENTY – DUNEDIN
Dunedin is a cool, little city with a distinctly Scottish flavour. By day, the streets jangle with vintage clothes and books; by night, they hum with live music – Dunedin has the best collection of bars in the country. If you do nothing else in Dunedin, though, head up the Otago Peninsula. Surrounded by stunning views, the Otago Peninsula is a haven for wildlife. Yellow-eyed penguins, fur seals and even the world's only mainland colony of royal albatrosses make it their home. Visit Sandfly Bay – named not for the insects, but for the way the sand flies over the dunes – and New Zealand's only castle, Larnach. The peninsula is also home to the Glenfalloch Woodland Gardens, which are quite lovely.

Dunedin has many worthwhile gardens. The Botanic Garden is magical, as is the country's only authentic Chinese garden. This is next to the Otago Settler's Museum, which is well worth the admission price – being free. There are yet more nice gardens at the Olveston historic mansion. The house itself is worth touring too, although it costs $20. Definitely go and have a look at the grand, old Dunedin Railway Station and catch the train through Taieri Gorge – a wonderfully scenic journey we wholeheartedly recommend. You could also do a tour of the Speight's Brewery and climb Signal Hill to get a view of the whole city and harbour.
Naturally, there are tons of walks to do in the area around Dunedin, but we recommend the Organ Pipes track on Mount Cargill. Although it isn't a long walk, it's tough. There's climbing involved. You need good shoes and to not mind coming down awkward slopes. What makes this walk special is its marvellous rock formations. It's one of the very few places in the world you can see almost perfectly hexagonal columns of basalt, like those of the Giant's Causeway in Northern Ireland. Of course, the most famous geological delights near Dunedin are the Moeraki Boulders, rocks so weirdly spherical they look as though they were placed on their beach by aliens. Make sure to visit them on your way up to Oamaru.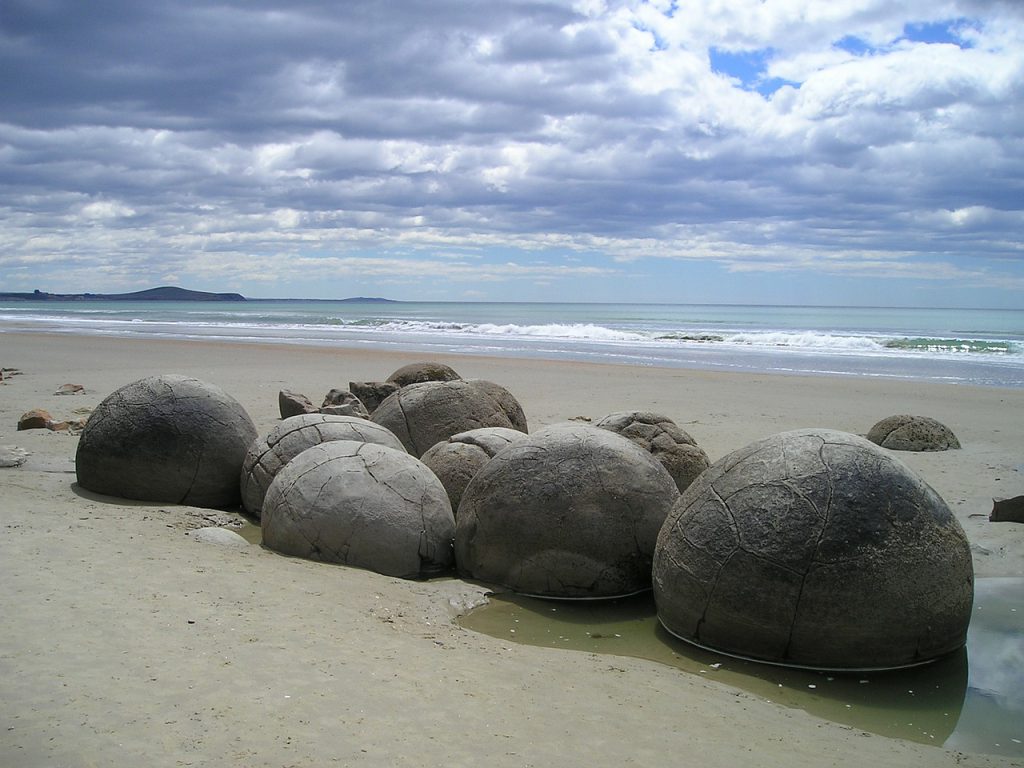 WEEK TWENTY-ONE – OAMARU, MOUNT COOK & TEKAPO
Oamaru used to be famous for little blue penguins. Now it's famous for little blue penguins and steampunk. Oamaru's Victorian Precinct is a delight to explore, with its nineteenth century buildings, old-fashioned bookshops and other boutique stores. You can even dress up and have your picture taken. If you like steampunk, you'll appreciate Steampunk HQ, a strange and atmospheric art gallery.
Of course, you should take the time to observe the little blue penguin colony. It's especially nice to watch them waddling up the beach at dusk. You could also sample some fine whiskey at the New Zealand Whiskey Collection Cellar Door. The Oamaru Public Gardens are pleasant, but perhaps even more beautiful are the Rockvale Gardens. After a couple of days in Oamaru, however, we must drive two hours northwest.


The road to Lake Pukaki, State Highway 83, is quite a pretty one, following the course of the Waitaki River. Lake Pukaki itself is simply one of the most beautiful sights in the entire world. Reflected upon its turquoise surface is the highest peak in New Zealand, Mount Cook. Mount Cook Village is your gateway to the wonders of Mount Cook National Park beyond. If you don't want to do any mountain climbing, there are plenty of shorter walks for all ages and abilities.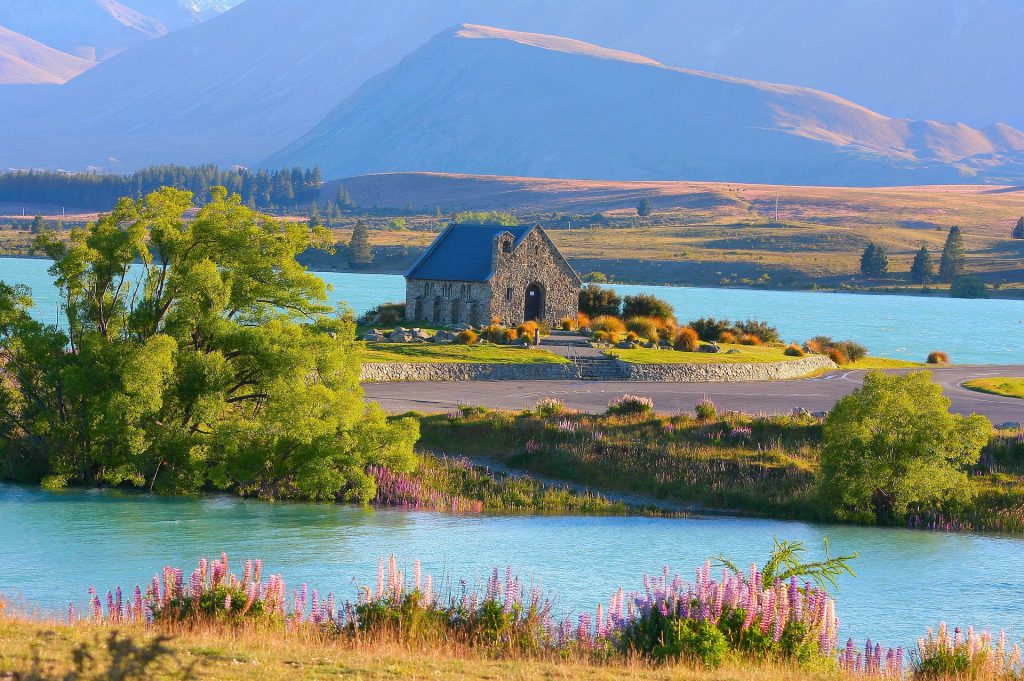 From Mount Cook, it's an hour to Lake Tekapo, famous for having an old, stone church standing alone upon its shore. It's like something from a fairy tale. Relax afterwards at Tekapo Spring, a hot pool complex that overlooks the lake and the mountains that guard it. From Tekapo, we at last make our way towards Christchurch, but not before stopping in Mount Somers Village. Why? Because that's how you get to Mount Sunday, a.k.a. Edoras from The Lord of the Rings. Even if you're not a fan of The Lord of the Rings, it's a fantastic walk.
We also recommend stopping at Rakaia Gorge. The braided Rakaia River is breathtaking, and there's a convenient campground near the Rakaia Gorge Walkway. If you still haven't gotten around to jetboating, or if you want to go again, this is a top place to do it. The Waimakariri River, a little further north, is good for it too, being almost equally beautiful. You can easily do this from Christchurch.
WEEK TWENTY-TWO – CHRISTCHURCH
This itinerary allows for two weeks in Christchurch, split in the middle by a trip up to Hanmer Springs and Kaikoura. The obvious first thing to do in Christchurch is head for Cathedral Square. Of course, the cathedral was destroyed by an earthquake a few years ago, but the square is still the hub of the city. (Incidentally, the temporary replacement 'Cardboard' Cathedral is well worth a visit.) We recommend hopping on an old-fashioned tram to tour the city centre, and make sure you get off at the Christchurch Botanic Gardens. It isn't known as the Garden City for nothing.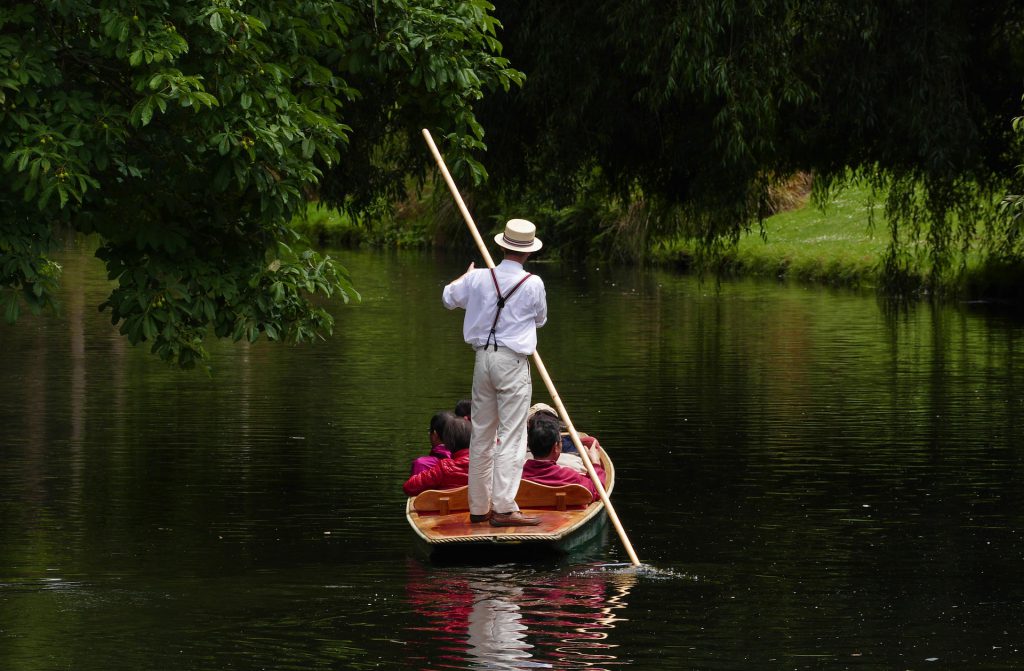 One of the best things to do in Christchurch is to take a ride along the Avon River in a punt. It's a wonderfully peaceful, evocatively Edwardian experience and the café at the Antigua Boatsheds is excellent. The Canterbury Museum is also worth a visit, as is Riccarton House, one of the nicest historic homesteads in the country. Of course, Christchurch has its fair share of nearby wineries and markets, and Willowbank Wildlife Reserve is a good day out.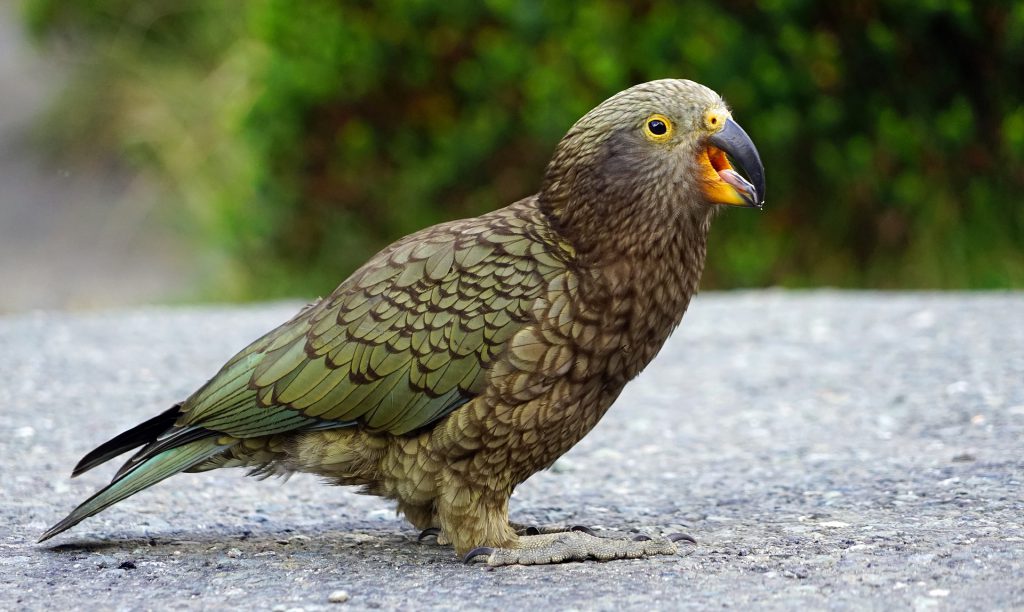 You should take at least a day to drive out of Christchurch to take in the alpine scenery of Arthur's Pass. From there, you can embark upon many different walks and encounter the hilariously intelligent kea, the world's only alpine parrot. Kea are notorious for making mischief – don't let them steal any of your belongings! On the way there or back, make sure you visit Castle Hill. There isn't a castle on it, of course, but a collection of awe-inspiringly photogenic rocks.

Back in Christchurch, there are still plenty of places to go, but we'll leave them until the final week of our Grand Tour of New Zealand. For now, it's time to head north.
WEEK TWENTY-THREE – HANMER SPRINGS & KAIKOURA
As you drive north to Hanmer Springs, you'll pass through the famed vineyards of the Waipara Valley. Once you've had your fill of New Zealand's best wine, why not take a ride on the Weka Point Railway? When you reach Hanmer Springs, you'll find an array of activities to get your adrenaline pumping, such as jet boating, quad biking, skiing and helicopter flights. The reason most people visit Hanmer Springs, however, is… well… the springs. The thermal pools are world-renowned – the ultimate relaxation in a stunning alpine setting.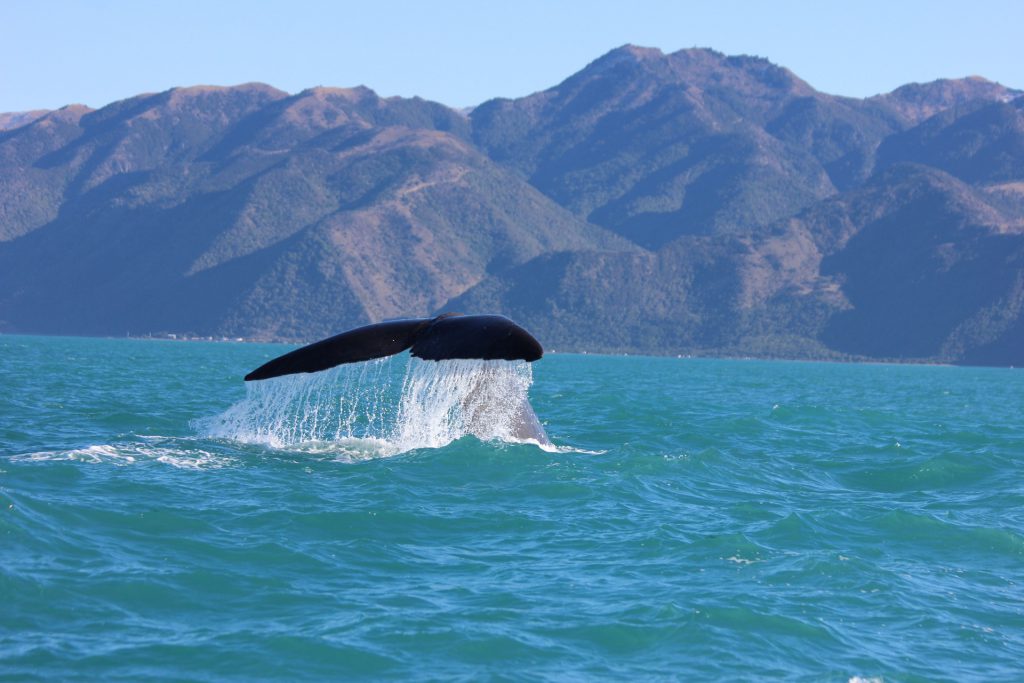 Northeast of Hanmer Springs lies Kaikoura, famous for whales, seals and yummy, yummy crayfish. Seriously, if you do nothing else in Kaikoura, eat a crayfish – that's what the town's name means after all. Of course, you'll want to go whale watching as well. You can also swim with dolphins and kayak with seals, all within sight of a row of snow-capped mountains. There's an albatross safari and a cool, new museum, and don't forget to visit the Ohau Point Seal Colony (if it's accessible by the time you arrive. State Highway 1 north of Kaikoura was blocked by an earthquake. They're clearing it now.) You can camp in your campervan for free on the shore right next to the seals!
WEEK TWENTY-FOUR – CHRISTCHURCH AGAIN
And we're back in Christchurch, about to embark upon our final week of this six-month tour of New Zealand. Do not leave the country without driving up Banks Peninsula to the French settlement of Akaroa. If you like the sight of charming cottages and gardens, and the taste of good cheese by the sea, you'll find Akaroa the perfect holiday destination. It's only place in the world where you can swim with Hector's dolphins. It has cooking classes, museums, galleries and walks with gorgeous views of the bay, but if you fancy something a bit quirky, visit the Giants House. It's an imposing historic house surrounded by a mosaic garden filled with weird and wonderful sculptures, the likes of which you've never seen before!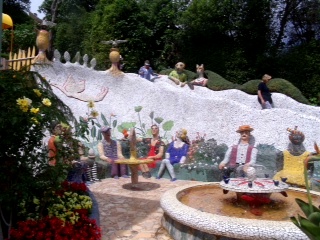 If your thirst for adventure has not been slaked by the last six months, we recommend canyoning with Big Rocks Canyons. If jumping, sliding and zip-lining over waterfalls sounds fun, go for it! If not, you could take a walk to see Ryde Falls at Mount Oxford. There are also opportunities for white water rafting around Christchurch, as well as hot air ballooning. Taking in the expanse of the Canterbury Plains from within the basket of a balloon is very expensive experience, but no doubt highly rewarding.
If you'd prefer a quieter final few days, you could visit the Arts Centre. Here, you'll find Rutherford's Den, which offers a fun, educational experience honouring the New Zealand-born father of nuclear physics. The Antarctic Centre, near the airport, is worth a visit too, especially for kids. There's a cool replica of Scott's hut, a penguin encounter, rides, huskies, a storm simulator and so much more! It's perfect way to end the tour, as it's conveniently close to where many campervan companies have their bases.