New Zealand is perhaps the best country in the world for thrill-seeking. It is, however, expensive. The average holidaymaker is unlikely to possess the means to attempt every activity suggested on this theoretical thrilling adventure tour. Instead, let it act as inspiration; as parts you can cut and paste into other trips. Shall we begin?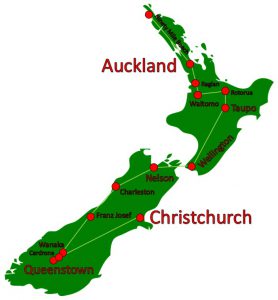 (The number of days spent on each activity in this trip include reasonable travel times between destinations.)
DAYS 1 & 2 – DUNE SURFING IN NORTHLAND
After picking up your vehicle in Auckland, head north to Ninety Mile Beach and get yourself on a dune surfing tour. Dune surfing, or sandboarding, is, funnily enough, sliding down a sand dune on a board. Some of the Ninety Mile Beach dunes are surprisingly high and steep, so there's plenty of fun to be had! Sand surfing is one of the tamest thrill-seeking activities available in New Zealand, but it's definitely worth doing. Plus, the sunsets on Ninety Mile Beach are spectacular.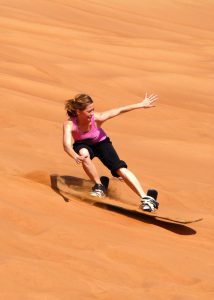 DAYS 3 & 4 – SKYWALKING IN AUCKLAND
That's right – you can become a Skywalker!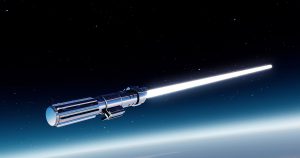 Not that kind of Skywalker. (Although you can take lightsaber classes in Auckland as well.) Think more literally and head for the Sky Tower in the centre of Auckland City. It's the tallest building in the southern hemisphere and you can walk around the top of it – on the outside! You can also jump off it, attached to a cable, falling 192m at 85km an hour. If you're not keen on bungy jumping, but still want to experience a thrilling fall, this is a great alternative.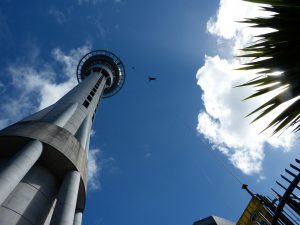 Billy Connolly once did it naked.
DAY 5 – SURFING IN RAGLAN
Raglan is one of the best surfing spots in the world, so hire a board and wetsuit and head out into the waves! If you've never surfed before, or if you're a little rusty, you can book a three-hour beginners' lesson with the Raglan Surfing School.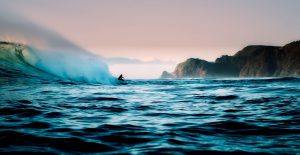 DAYS 6 & 7 – BLACK WATER RAFTING IN WAITOMO
The Waitomo Caves are a natural labyrinth of adventure. As well as the standard cave tours, which include some absolutely magical glowworm viewing options, there are the more adrenaline-pumping tours, which include underground abseiling and ziplining. Black water rafting, or tubing, is a popular activity involving floating down a subterranean river on a rubber ring, and even jumping over waterfalls. You can also try cave crawling, though it's not for the faint of heart!
DAY 8 – LUGING IN ROTORUA
As well as being a hub of beautiful geothermal activity, Rotorua is the Queenstown of the North Island. It's packed with thrill-seeking activities. We recommend zorbing – which, in case you haven't heard of it, is rolling down a hill in a giant, inflatable sphere – and luging. In this case, luging is like go-karting, speeding down a track that winds through trees and looks out over Lake Rotorua. When you get to the bottom, you go back up in a chair-lift. It's so much fun!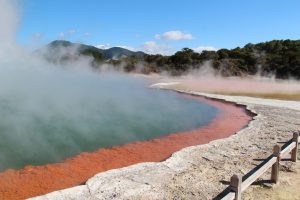 DAY 9 – SKYDIVING IN TAUPO
Taupo is a touristy town on the edge of New Zealand's largest lake. There are many adventurous activities to do around it, including white water rafting on the Tongariro River. We recommend you take the opportunity to go skydiving. Skydiving over Taupo offers views not only of the great lake, but of the snowy peaks of Tongariro National Park and even Mount Taranaki. Imagine being able to tell people you've done it!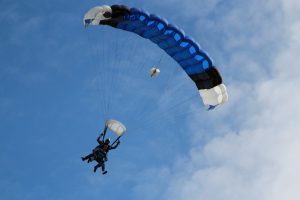 DAYS 10 & 11 – MOUNTAIN BIKING IN WELLINGTON
New Zealand's capital city is perfect for mountain biking, being built amongst forested hills overlooking a sparkling harbour. Perhaps the best hill to go biking on, especially for Lord of the Rings fans, is Mount Victoria. (It was on Mount Victoria that the hobbits hid from the Black Rider.) You can hire mountain bikes in Wellington or book a guided tour. Or, if you would prefer, Wellington also offers some thrilling quad biking tours.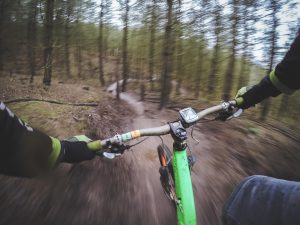 DAYS 12 & 13 – KAYAKING IN NELSON
Sunny Nelson, at the top of the South Island, is your gateway to the stunning Abel Tasman National Park. There is no better place in New Zealand for sea kayaking. Paddle past golden beaches, playful seals and the striking Split Apple Rock. Tours range from half a day to a few days, with much choice of scenery and, indeed, company available. It is, however, advisable to book in advance in summer.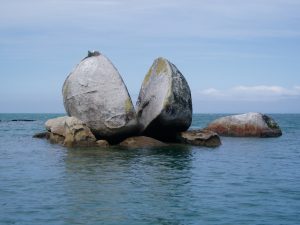 DAY 14 – CAVING IN CHARLESTON
The wild West Coast of the South Island can inspire a sense of adventure in anyone. The geology of the area is quite wonderful, which is why we recommend an adventure caving tour. Abseil, chimney climb, crawl, squeeze and splash your way through magical subterranean chambers, or raft along the Nile River rapids with Underworld Adventures. On your way there from Nelson, stop in Buller Gorge to traverse New Zealand's longest swing bridge!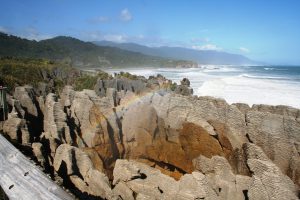 DAY 15 – HELI-HIKING IN FRANZ JOSEF
What could be more thrilling than landing on top of a glacier in a helicopter? For a once-in-a-lifetime experience, book yourself a Franz Josef heli-hike. After seeing the breathtaking Southern Alps from the air, you'll be taken on a guided tour across the ice and shown some incredible formations. You can also go heli-hiking on the nearby Fox Glacier – either is an adventure to be remembered. This is one of the most amazing things you can do in New Zealand.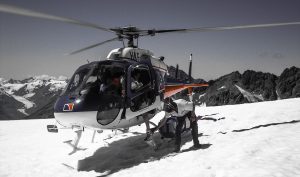 DAYS 16 & 17 – CANYONING IN WANAKA
There's plenty of adventure to be had around the glacial Lake Wanaka. In many ways, it's a slightly cheaper Queenstown. We recommend canyoning, an exhilarating leap into a world of waterfalls, hidden pools and magical grottoes. The scenery is eerily beautiful and the thrills are unforgettable.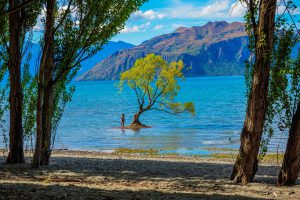 DAY 18 – SKIING IN CARDRONA
Skiing, obviously, is a winter activity, but Cardrona Alpine Resort has you sorted for summer too. Their mountain biking is amongst the best in the country, but we recommend their mountain carting – pretty much extreme go-karting!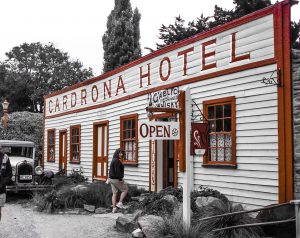 DAY 19 – JET BOATING AND BUNGY JUMPING IN QUEENSTOWN
We've made it to the adventure capital of New Zealand, Queenstown. There's no end to the thrill-seeking options available in this gorgeous natural playground. We think it's the best place in the world for jet boating, so book yourself a morning jet boat ride on the breathtakingly beautiful Shotover River. Then, in the afternoon, get yourself to Kawarau Bridge, home of the original bungy jumping experience. As well as bungy jumping being the quintessential New Zealand thrill-seeking activity, the views are superb. You should go there ever if you're not keen on throwing yourself off the bridge!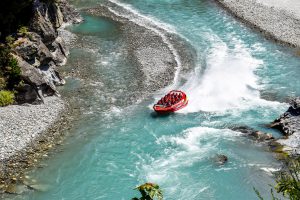 DAYS 20 & 21 – BALLOONING IN CHRISTCHURCH
As you make your way to Christchurch to drop off your campervan, you'll pass many more opportunities for adventure, including further jet boating tours, white water rafting and horse riding. Perhaps the most awesome adventure, though, would be to take a ride in a hot air balloon. The countryside around Christchurch, with its epic braided rivers and vast patchwork of farmland stretching between the mountains and the Pacific Ocean, is absolutely best seen from the air. End your New Zealand holiday with an experience that is uniquely exhilarating and go hot air ballooning!