This one-week North Island trip begins and ends in Auckland.
It's designed to show off New Zealand's volcanic wonders. If you yearn to experience the otherworldly beauty of geysers, mud pools, lava caves, natural spas and active volcanoes, this is the trip for you.
As always, don't forget to download this incredibly useful free map of every campsite in New Zealand.
DAY 1 – AUCKLAND
The city of Auckland is built on a massive volcanic field. There are at least fifty volcanoes around it, the most distinctive of which is Rangitoto.

Ferries to Rangitoto Island can be caught from downtown Auckland. It takes about twenty-five minutes to reach the island. Make sure you take food, water, a hat, sunscreen and sturdy footwear with you. Once there, you can explore the lava caves and climb up to the crater. It's quite spectacular.
If you want to learn more about how volcanoes work, there's an excellent exhibition about them at the Auckland Museum. It includes a scary simulation of what would happen to Auckland if Rangitoto erupted.
As for where to spend the night, there are no free camping spots in Auckland, so you'll have to book yourself into a campground.
DAYS 2 & 3 – WHAKATANE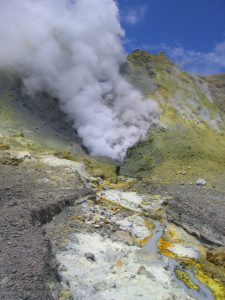 It takes between three and four hours to drive from Auckland to Whakatane. This town in the Bay of Plenty is the gateway to White Island, a very beautiful and very lively volcano. Scenic flights over White Island leave from a few places, but Whakatane is the only place from which you can take a ferry to White Island and tour it on foot – and we cannot recommend this enough!
Make sure you book your place on a White Island tour. It's expensive, but well worth it. It's an experience like no other. The atmosphere is highly sulphuric, so take our advice and don't shave the morning before you go! You'll encounter steam vents, crystals, sensational colours, ghostly tales and an incredible lake of acid. Plus, there's a high chance you'll see dolphins on the ferry ride.
As the White Island tours leave early in the morning, you'll want to arrive in Whakatane the day before. There are free overnight campervan parking spots in the area, as well as paid campgrounds. You'll find no shortage of other things to do in Whakatane: you could visit one of New Zealand's best-loved beaches, Ōhope, or even catch a glimpse of New Zealand's famous and endangered kiwi bird.
DAY 4 – ROTORUA
An hour or so's drive from Whakatane, Rotorua is New Zealand's volcanic hotspot. The whole city smells like rotten eggs in a good way! The first place you should get yourself to is Government Gardens. Not only is the area gorgeous, it contains geothermal features, naturally heated spa pools, and a museum with an outstanding exhibition concerning the devastating 1886 eruption of Mt Tarawera. From Government Gardens, you can walk along the shore of Lake Rotorua to Sulphur Point, which steams with delicious mud pools.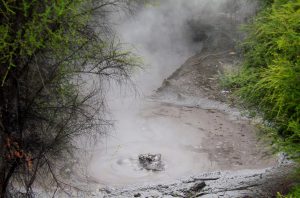 If you want to see more volcanic wonders for free, we recommend a visit to Kuirau Park. There, you can walk across a steaming lake and wend your way between bubbling mud pools. It even has a free foot spa. If you want to see a truly spectacular geyser – and learn about traditional Maori culture – get yourself to Whakarewarewa. (And don't leave without trying corn-on-the-cob cooked in a natural hot pool!) For some breath-taking volcanic history, head to the Buried Village, which is pretty much New Zealand's equivalent of Pompeii.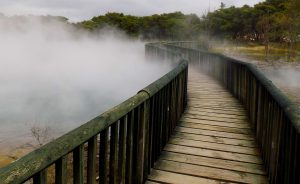 There are no free camping spots in Rotorua, so save yourself some hassle and book a night (or two, if you come to Rotorua straight after your White Island tour) at a campground. As it's Rotorua, most of the campgrounds have their own thermal pools.
DAY 5 – TAUPO
On your drive down to Taupo, spend a few hours at the unbelievably beautiful Waimangu Volcanic Valley. You can do a hike and/or cruise on Lake Rotomahana, site of the once-legendary Pink and White Terraces. Though the terraces were destroyed in the Tarawera eruption, there are plenty of other hydrothermal wonders to marvel at. The different colours are quite amazing. (If you want to do a cruise, you're best off booking ahead.) Alternatively, you could visit Wai-O-Tapu Thermal Wonderland to see this.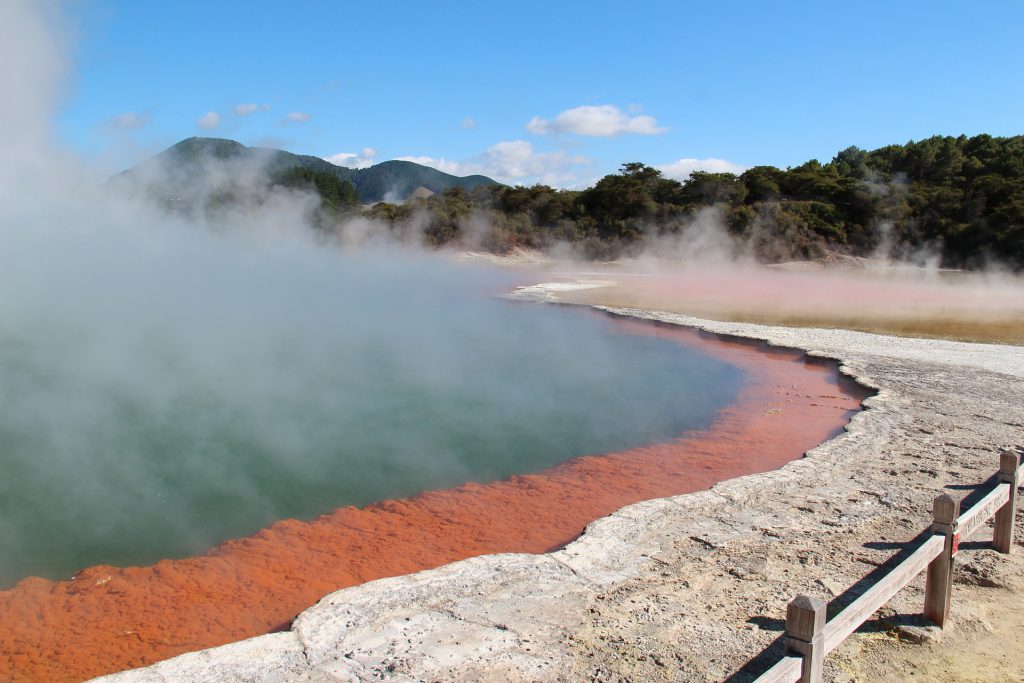 A few minutes out of Taupo, definitely visit a little place called Craters of the Moon, a steaming, pock-marked landscape of mud pools and fumaroles. It's cheap to enter and doesn't take long to walk around – there's a boardwalk the whole way. Also, especially if you have children with you, head to the fun and educational Volcanic Activity Centre. Here, you'll learn about the science behind the wonder. Wairakei Natural Thermal Valley is worth a visit too: it has a cool geyser called the Dragon's Mouth.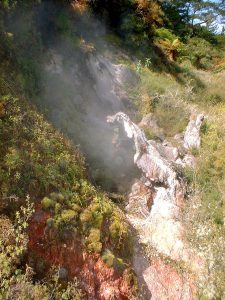 There are quite a few free camping spots around Taupo and on the way down to Tongariro National Park. You might even get a spot right by the lake.
DAY 6 – TONGARIRO
At the bottom end of Lake Taupo lies Tongariro National Park, home of three volcanoes called Ngauruhoe, Ruapehu and, of course, Tongariro. In the winter, the park is a popular spot for skiers. In the summer, many attempt the Tongariro Alpine Crossing. On this epic track, you get steam vents, the spectacular Red Crater, and the stunning Blue and Emerald Lakes. As beautiful as it is, if a seven-hour hike doesn't sound appealing to you, there are plenty of short walks to do in Tongariro as well.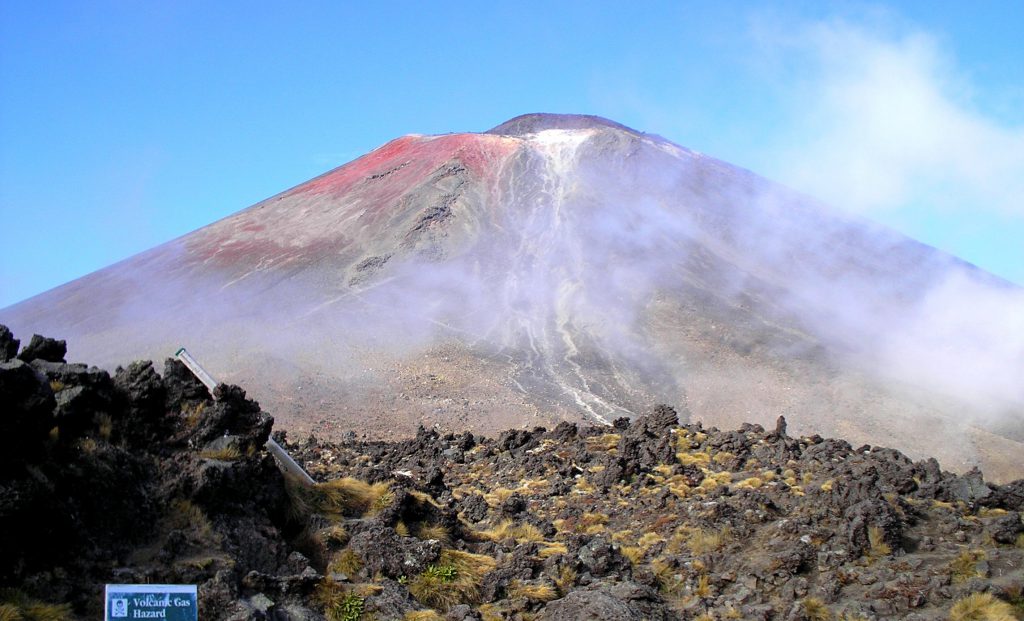 There are plenty of free camping spots around Tongariro, as well as a couple of paid campgrounds. We recommend staying in the park itself, as you might see some bats during the night.
DAY 7 – AUCKLAND
Back to Auckland from Tongariro is a drive of about five hours. If you find yourself with time to spare before you have to drop off your campervan, head to the nearby Mangere Mountain, Auckland's best-preserved volcanic cone. There, you can take in some cool views of Auckland and some quite interesting Maori history.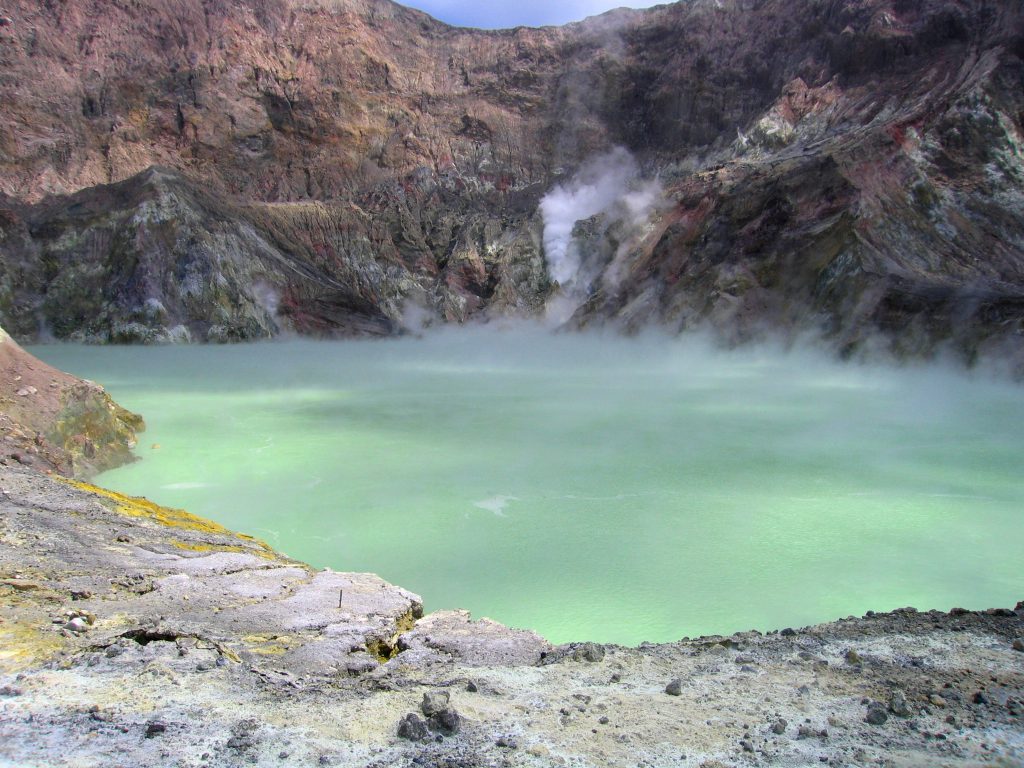 We hope you're inspired to seek out New Zealand's volcanic wonders! If you're interested in immersing yourself in New Zealand's history as well, check out our itinerary for A Magical History Tour of the North Island.